3 Reasons for Malaysian Employers to Embrace Remote or Hybrid Working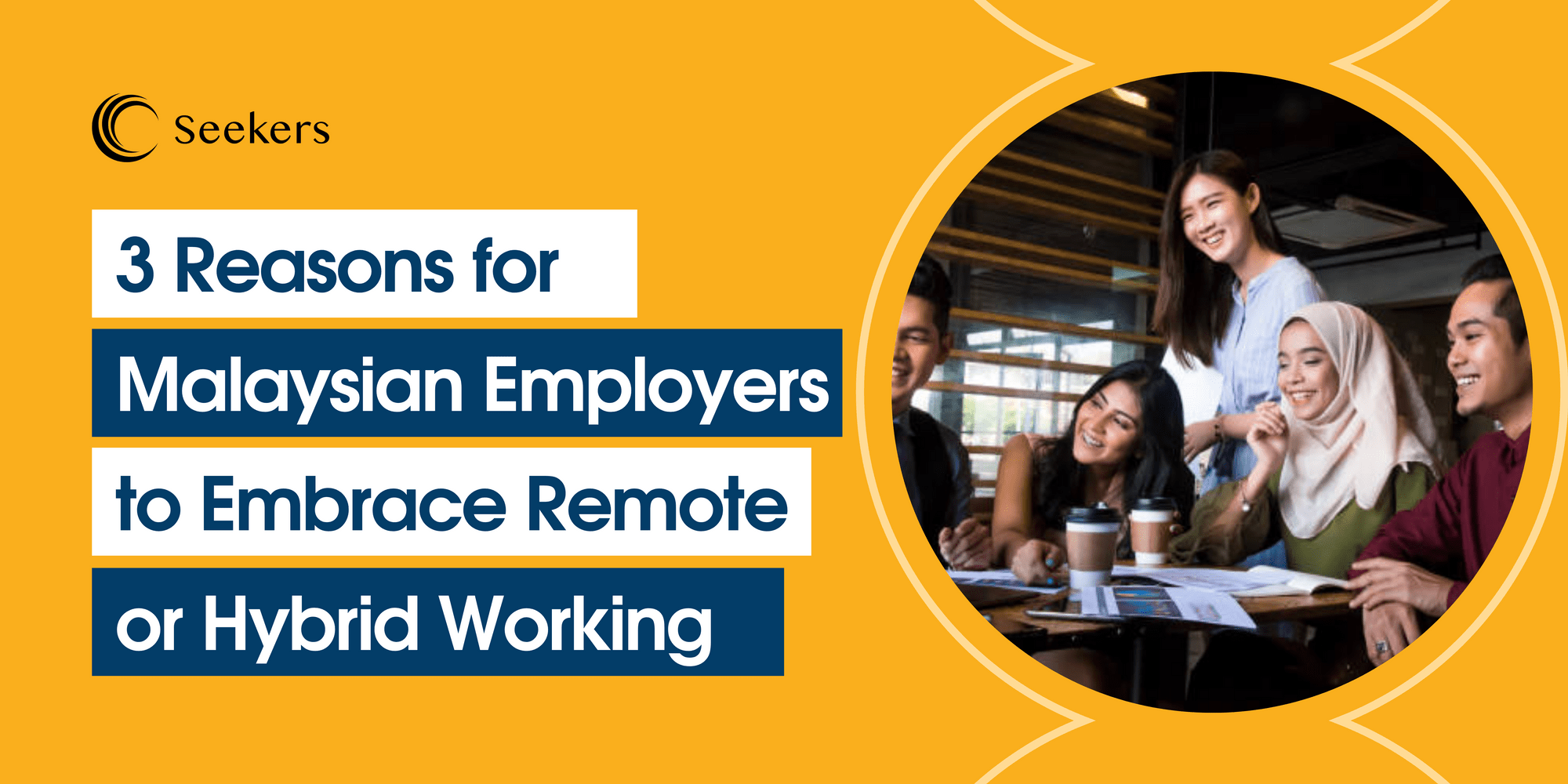 The shift towards remote and flexible working continues to gain momentum, thanks to the increasing adoption of digital technologies as more and more businesses transition into Industry 4.0 and incorporate automation into their work processes.

The COVID-19 pandemic has served to underscore the importance of digitalisation, with most of the world spending the majority of the last two years working from home and having to migrate business operations online.

As we move forward post-pandemic and reassess our business goals and priorities, one thing is clear: Malaysian employers need to embrace remote or hybrid working if they wish to stay relevant.
Malaysian Employees Want Remote & Flexible Working Options
This is supported by the 2021 EY Work Reimagined Employee Survey, a global survey conducted in March 2021 amongst 16,264 employees from 16 countries across 23 industries. Millennials represented more than half of all respondents.

One of the largest global surveys of its kind, the study found that "More than half (54%) of employees surveyed from around the world would consider leaving their job post-COVID-19 pandemic if they are not afforded some form of flexibility in where and when they work."

Malaysian employers might want to take note of the following findings reported by the study:

Almost half (45%) of Malaysia respondents would quit their jobs if not provided post-pandemic flexibility
Nine in 10 want flexibility in where and when they work
Seven in 10 of Malaysia respondents say hybrid work arrangements will increase productivity and creativity

Tan Lay Keng, people advisory services leader for EY Asean and Malaysia, commented that employers who promote hybrid work arrangements and provide the flexibility for employees to work anywhere and anytime are likely to have better employee attraction, retention, and satisfaction in the long run, which could positively impact the business.

If the above isn't compelling enough, here are three key reasons Malaysian employers might want to consider offering remote or hybrid working options moving forward.
3 Reasons for Malaysian Employers to Embrace Remote or Hybrid Working
Improved Productivity & Work-Life Balance
For most of us working in the city, being able to work remotely saves precious hours otherwise spent on long commutes and being stuck in traffic jams. This directly translates into less stress and more quality time with loved ones and family, creating better work-life balance.

A two-year study by Stanford University found that remote working led to an astounding productivity boost among work-from-home employees, besides fewer sick days, shorter breaks, less time off, and a 50% drop in resignations.

But the most valuable insight provided by the study was its recommendation to limit remote working to a few days a week rather than making it permanent, to prevent isolation. This strengthens the case for hybrid working as opposed to full-time remote, being a more balanced approach for optimal productivity.

As suggested in this BBC Worklife article, hybrid working ideally offers "the best of both worlds: structure and sociability on one hand, and independence and flexibility on the other."
It Makes the Company an Attractive Employer
Offering remote or hybrid working options makes your company a more competitive and attractive employer. Doesn't matter how good your product or service is, without high-calibre, dedicated employees, your business wouldn't be able to grow or maintain its competitive edge.

Simply put, the ability to attract and retain top talent defines an organisation's future and allows it to scale and expand much more efficiently. Offering a flexible working environment keeps employees happy and productive, which strengthens their loyalty and effectively reduces employee turnover, saving the business time and money in recruitment and training efforts.

Now that employees have had a taste of the benefits of remote working, many are expecting some form of flexible working arrangement to continue post-pandemic.
Future-Proof Your Business with Improved Tech Capabilities
To stay relevant and competitive, businesses need to be technologically savvy. In a world that's becoming increasingly automated and interconnected via IoT (Internet of Things), AI, and advanced robotics, digitalisation is no longer a choice for businesses to remain viable.

Remote working is only possible because constant innovations in digital technologies have made it possible for people to collaborate seamlessly despite their physical locations. From the ever-growing cloud-based communication, collaboration, and project management apps such as Google Workspace, Slack, Dropbox, and Zoom, to revolutionary technologies like blockchain, augmented reality, virtual reality, and human-machine interfaces, the way we live, work, and play continues to change drastically.  

By embracing remote or hybrid working, your company has no choice but to incorporate the necessary technological infrastructure and capabilities required for this new way of working. This paves the way for your business to boost its technological savviness, allowing it to adapt quicker and more efficiently to future technological developments.
Specialist Headhunting Service for Malaysian Employers
Are you a Malaysian company in need of specialist headhunting services for your recruitment needs?

Seekers Malaysia is a results-driven, performance-based headhunting service that provides specialist career consultancy, corporate support, and recruitment management services to help Malaysian employers find and hire professionals across different digital and technological fields of expertise.

We specialise in reaching the "passive" 95% of job seekers—individuals who don't use recruitment sites and are not actively looking for jobs. Seekers' unique approach of combining technology with an extensive database of over 22,000 freelance recruiters allows us to quickly and efficiently identify and locate highly skilled and experienced professional talents best suited for your business goals and needs.

Learn more about our headhunting services or talk to us about your recruitment needs. We look forward to helping you find the right talents to drive your organisation's growth.