Find CV | Free Resume & Candidate Search Methods in Malaysia 2021
There are several websites which are offering "Resume Search" in Malaysia, but it's difficult to know which is the effective one because most of the websites are trying to charge you based on your clicks!
To avoid such issue, let us share the three recommended CV Search services available in Malaysia as to date.
CV Search Method 1: Indeed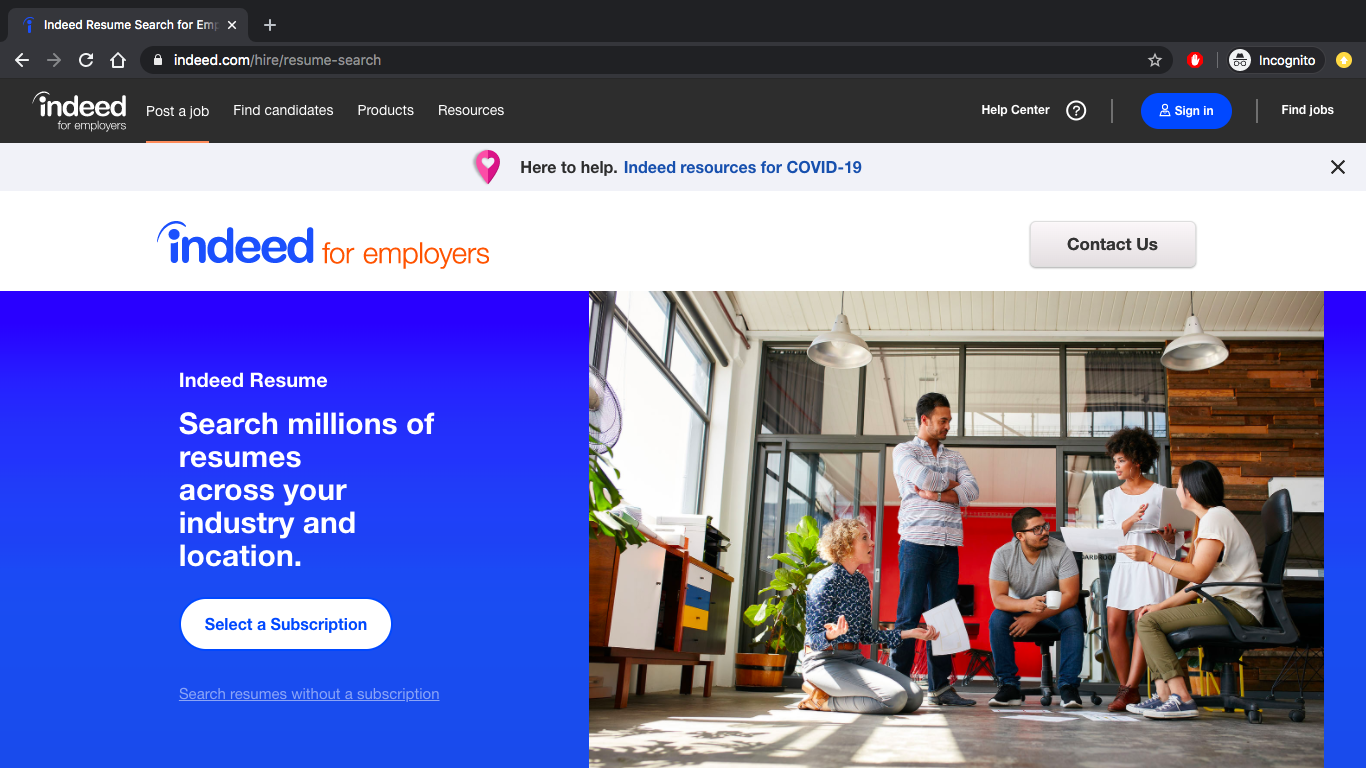 If you are in the position to look for global talent, Indeed would be the best option for you because of the coverage, brand, and the UX.
In other words, Indeed does not work for accomplishing your mission if you are only looking for local Malaysian talents.
Pros:
A high volume of CVs
Well maintained UX

Cons:
No Free Trial
No exclusive service in Malaysia
Reply rate is not high since Indeed emails often go to Newsletter or such sub-email boxes
---
CV Search Method 2: Monster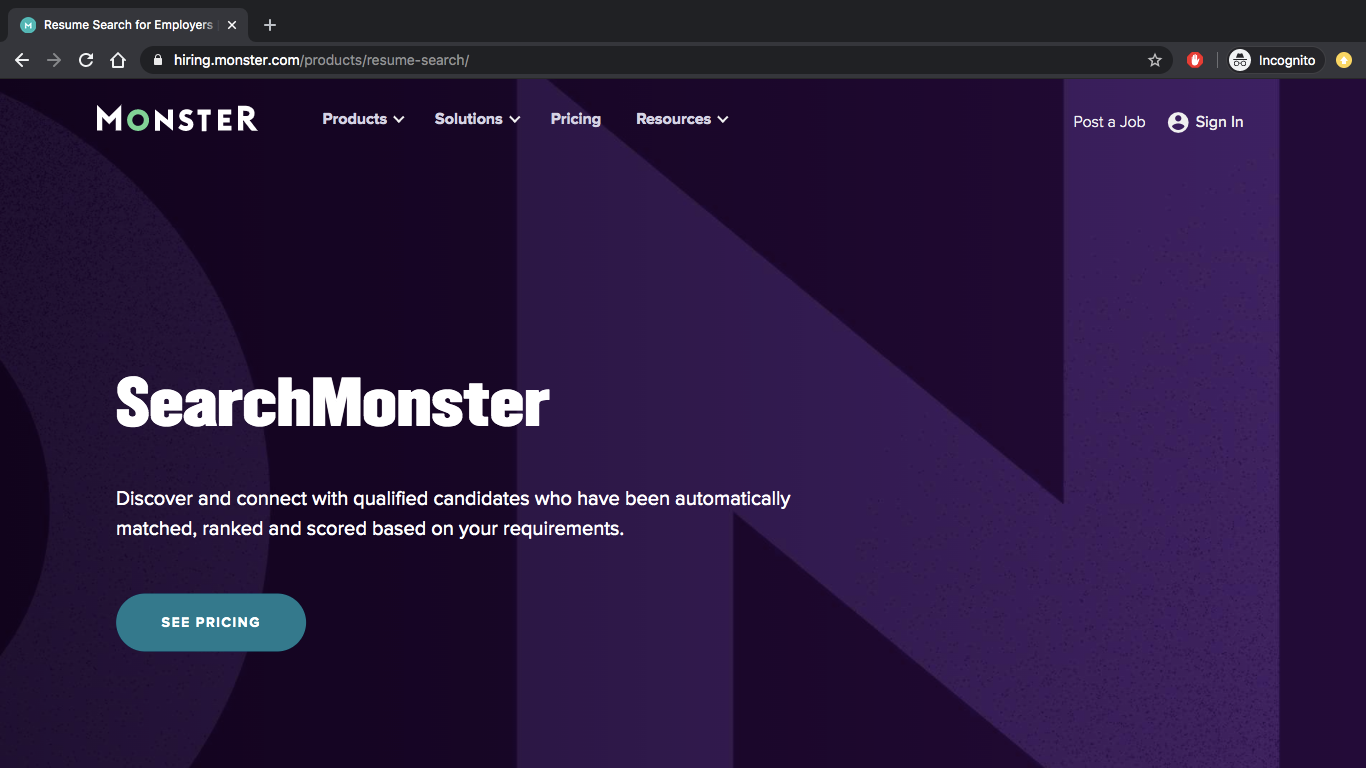 Monster has been focusing on this CV Search system in Malaysia for several years, so it is worthwhile to check out if you are looking for a local candidate.

However, there is no data though, based on Seekers team's research, well-experienced HRs are using this to look for IT candidates specifically.

And the worst part, you will need the Premium plan to gain full access to the system and engage with candidates.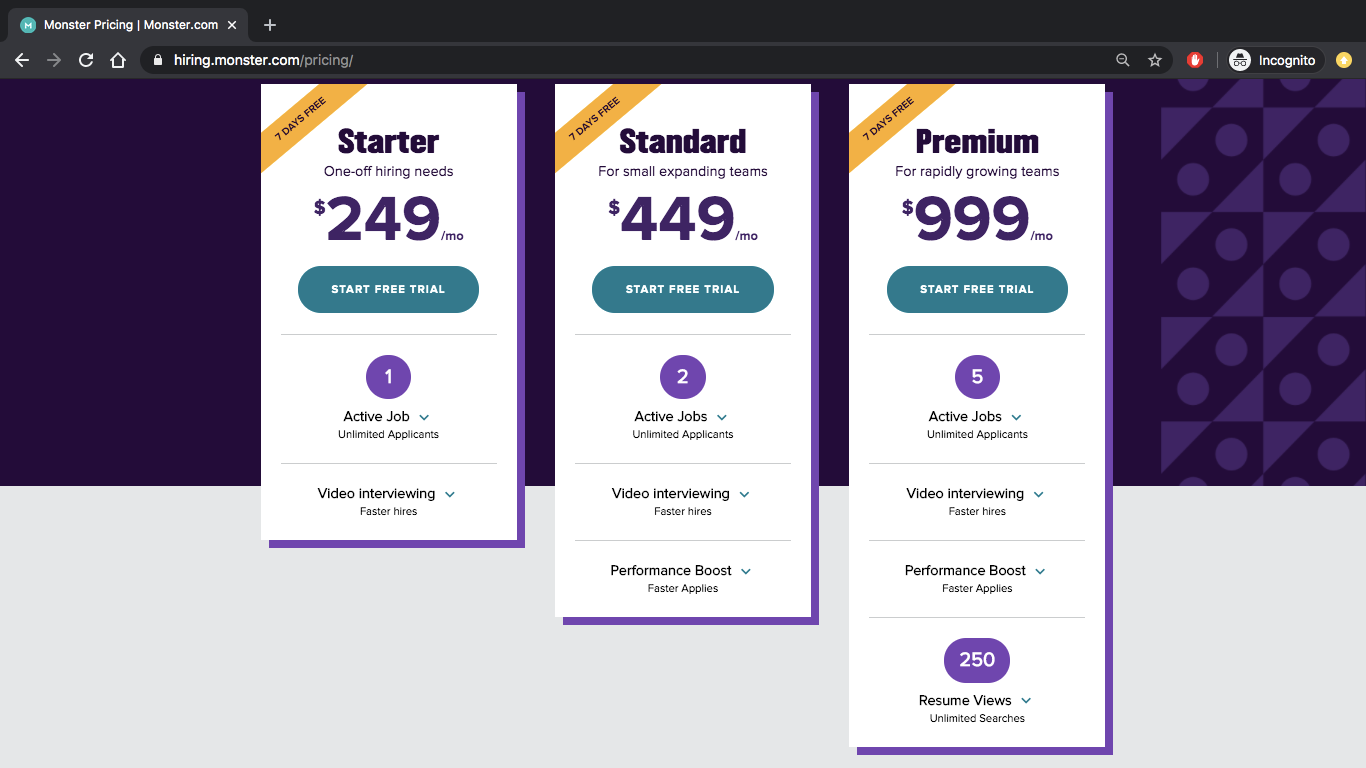 Pros
Local service in Malaysia is available
They provide a free term

Cons
Premium is the one to go for, but it is relatively expensive
7 days is a very short time for you to engage a talent
---
CV Search Method 3: SRS (Seekers Recruitment System)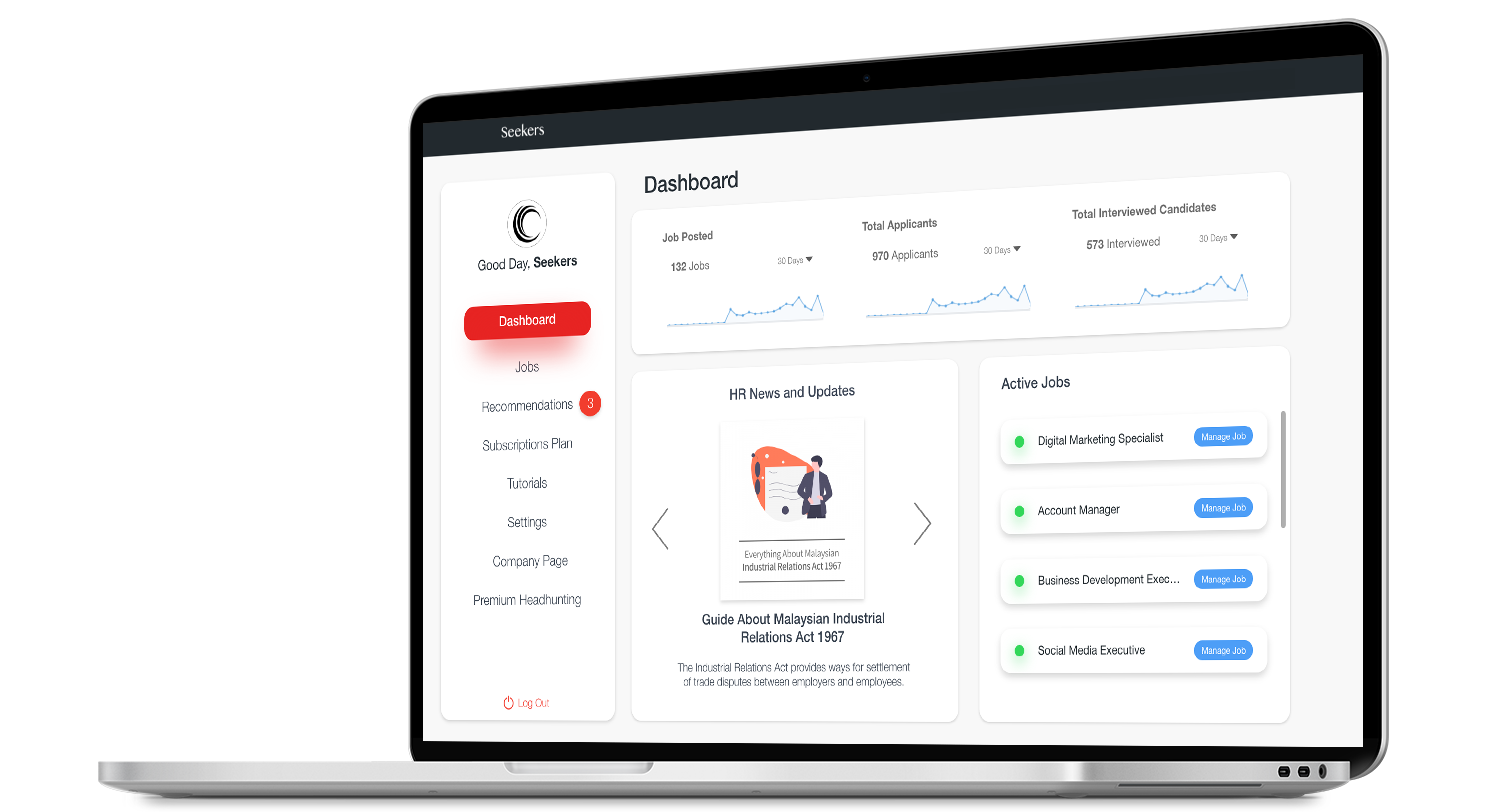 It is kind of a direct PR from us, but we Seekers found the issues above and started the development in early 2020.

The database is based on the six years history of Headhunting service, so the quality and amount should be good enough to hit multiple candidates (as of today, there are slightly over 50,000 candidates).
Here's the example of searching "Accounting specialist with MYOB software experience":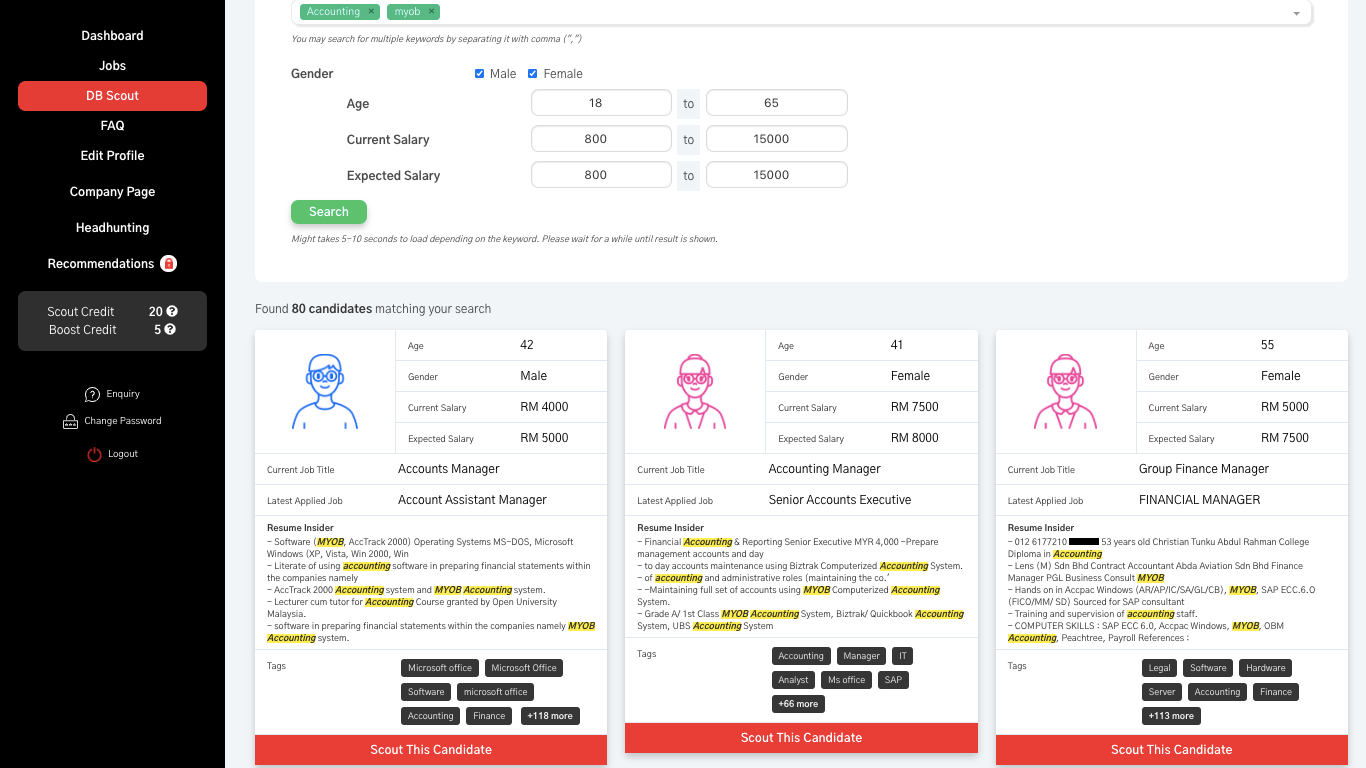 How do you like this interface?
It's not yet the perfect platform, but thanks to the support from many companies, more than 2,300 organizations are registered within 10 months.
You can sign up and give the platform a try for FREE. Advertise your jobs on Seekers and engage your talents efficiently (and hope you come back on the next hiring!). Here is the summary of SRS:
Pros
Enough functions and good usability are there for first-timers
Higher reply rate can be expected thanks to the system

Cons
Candidate volume is 50,000, which is less than the above services
---
Conclusion of Resume Search
Resume search is somehow a probability game based on this formula:
Engage Candidates = Total Attempt × Reply Rate
Reply rate is mostly around 10%, so making ten attempts would be a KPI for you.
And it sometimes takes around seven days for candidates to prepare themselves (e.g. update CV, discuss with family). All you have to do is to check the platform consistently and keep the connection with the scouted (shortlisted) candidates even after some stages of hiring has already occurred.

Lastly, here is the table to help you make a better comparison:
| \ | Indeed | Monster | Seekers |
| --- | --- | --- | --- |
| Exclusive Service in Malaysia | No | Yes | Yes |
| Free Period | No | 7 days | 30 days |
| Num. Scout during Free Period | - | 250 *Premium | 10 |
| Num. Scout on Paid Plan | 30 | 250 *Premium | 100 |
| Price of Paid Plan per month | USD100 ≒RM427 | USD999 ≒RM4,275 | RM980 |
| Price per Scout Attempt | RM14.23 | RM17.1 | RM9.8 |
| Remarks | - | Comes with: - 5 job posts - Spark Hire - Performance Boost | Comes with: - Infinite Job Postings - Deliver Messages via SMS - ATS - Boost with 20,000 recruiters |
---
Thank you for reading!