Managing The Compensation for Employees
---
As an employer, compensation should be a "well-noted" knowledge as in some period, employers will be facing a situation where employers had to perform compensation. But, what are the scenarios or conditions required for employers  to do the compensation for employees?
From this article, Seekers will do a review on 3 types of compensation-scenarios in accordance of Malaysia's related employment regulation, including the process of the compensation.
---
1. Compensation In Accordance of Workmen's Compensation Act 1952.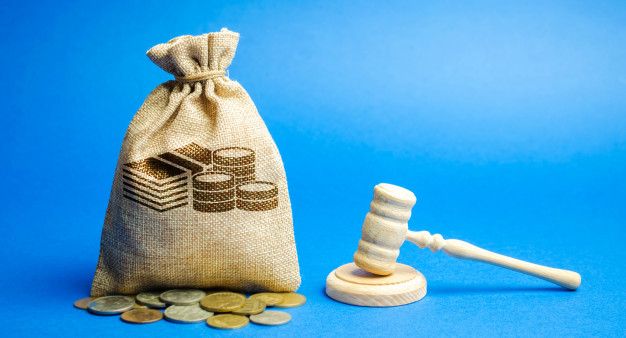 Condition
This Act features the compensation payment to an injured employee or workmen in situation of employees contracting fatal accident, injury or contracting an occupational disease while performing the duty or work.
Eligibility
Only foreign workers are covered under this Act for employment injury as well as non-employment injury.
This Act applies to foreign workers:
i. Whose earnings are not more than RM500 per month
ii. All manual workers irrespective of the wage
The Process
This Act is administered by the Department of Labour Malaysia. Once the event occurs, the employees are required to report to the nearest Labour Office.
The Labour Office will take action on reported cases of employer's neglected responsibilities on:
i. Worker's insurance
ii. Not reporting occupational accident/injury
iii. Not paying the compensation for workers
---
2. Compensation In Accordance of Employees Social Security Act 1969.
Condition
These schemes provide the benefits of invalidity pension, invalidity grant, survivors pension, rehabilitation, funeral benefit, constant attendance allowance and educational loan.
Eligibility
To note, SOCSO does not cover the following categories of persons:
i. Federal and State Government permanent employees
ii. Domestic servants
iii. Self-employed (except for self-employed taxi drivers, individuals who run similar services including e-hailing such as Grab and self-employed bus drivers)
iv. Spouses of a sole proprietor or a partnership owner
The Process
Employers are responsible for reporting all work-related accidents that befall their workers within 48 hours of notification.
SOCSO provides coverage to eligible employees through few schemes namely:
i. Employment Injury Insurance Scheme
ii. Invalidity Pension Scheme
iii. Employment Insurance System
iv. Employment Injury Scheme for Foreign Workers
A further reference on Employment Injury Scheme for Foreign Workers as below: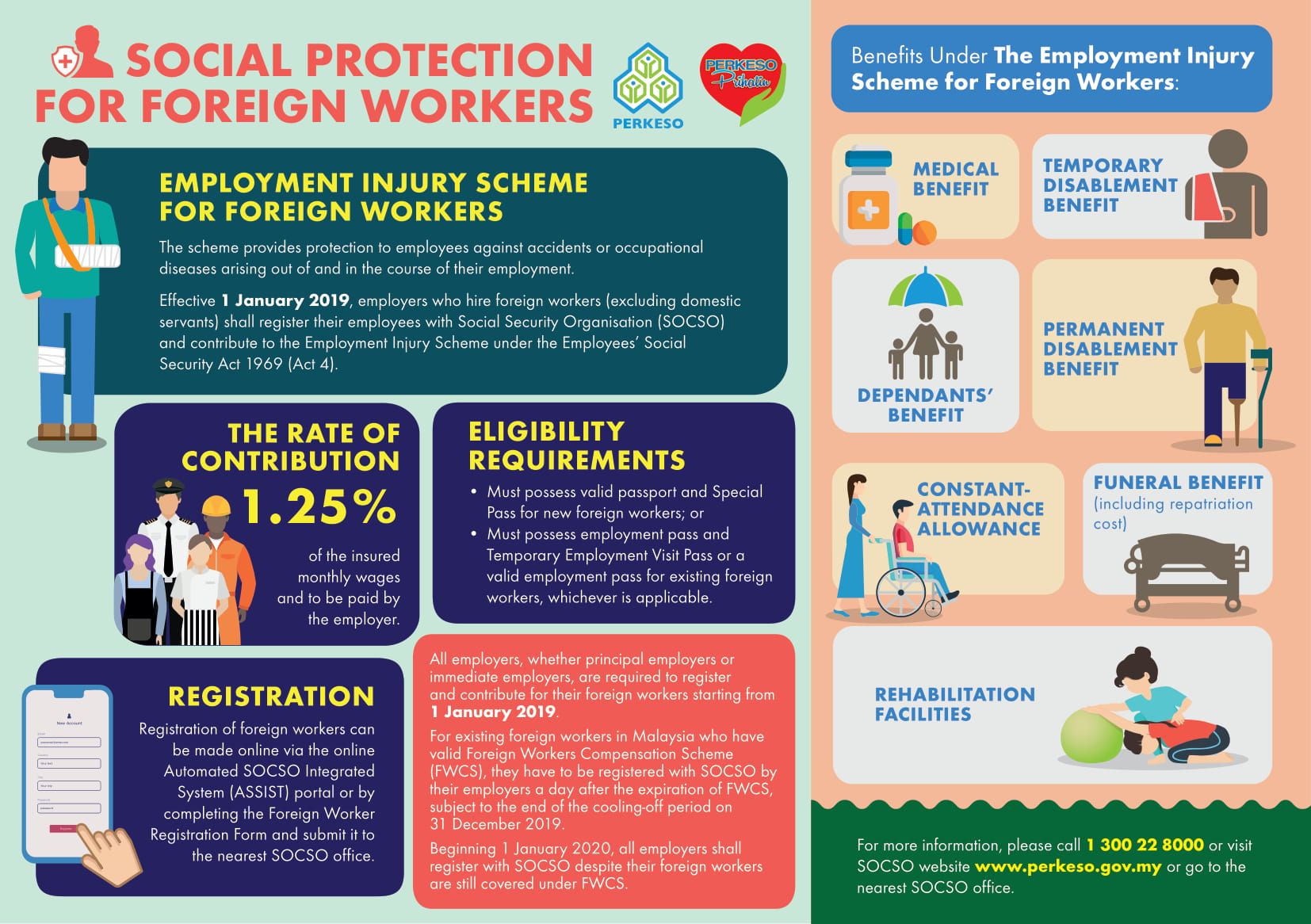 ---
3. Compensation Based on Employment's Termination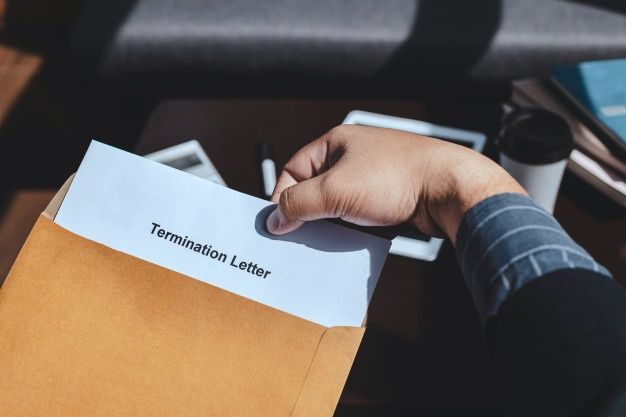 For this type of compensation, there are 5 types of compensation regulations which employers can refer for the compensation scheme:
i. Termination and Lay Off Benefit Regulations 1980.
ii Employment Act 1955
iii. Labour Ordinance Sabah
iv. Labour Ordinance Sarawak
v. Industrial Relation Act 1967
Condition
These Acts feature the compensation payment for employees who undergo termination of the employment contract. All of these regulations are administered by Labour Department of Malaysia.
Eligibility
Covers Malaysian workers.
The Process
To begin the compensation process, employers are required to:
i. Prepare a valid termination/cessation of employment contract with details on termination reason, the date of effective termination and compensation amount.
ii. Report the employees' termination via PK Forms submissions:
| FORM TYPE | SUBMISSION PERIOD |
| --- | --- |
| Part I-IV | 30 days prior to termination date. |
| Part V | 14 Days after the termination date. |
| Part VI | 30 days after the termination period |
iii. Company pays the terminated employees.
iv. In case of dispute regarding the compensation amount, both parties have rights to proceed the case to either labour court or industrial court.
For reference of the employment dispute case, employers may refer to this article.
Source: Labour Department of Malaysia, Attorney General Chambers Of Malaysia, Social Security Organization (SOCSO).
---
Are you still seeking for great expatriates or local candidates for your company?
Advertise your job ads with Seekers SRS, have access to scout reliable candidates from different level of expertise. A bespoke recruitment technology for automated hiring!
Some of the top features for Seekers SRS:
Free job posting (Permanent access)
Candidate Database Access (Scout candidates on your 1st month for free)
Freelance Recruiter Boost (20,000 recruiters in Malaysia will find a top candidate for you)
Cross-functional ATS (Application Tracking System)
Keyword Tagging Automation​
Company Introduction Builder​