Top 5 Technology Trends Shaping the Future of Human Resources
We've seen unprecedented change in the HR industry over the last decade. From the rise of artificial intelligence to the burgeoning gig economy, and more recently, a global pandemic that redefined where and how we work, technology has become a cornerstone of business survival.

If nothing else, the past couple of years have been a clear reminder that the ability to adapt and transform quickly is vital for any organisation to stay relevant and maintain its competitive edge. As we come to the end of 2023, let's take a look at the top 5 technology trends shaping the future of work and Human Resources.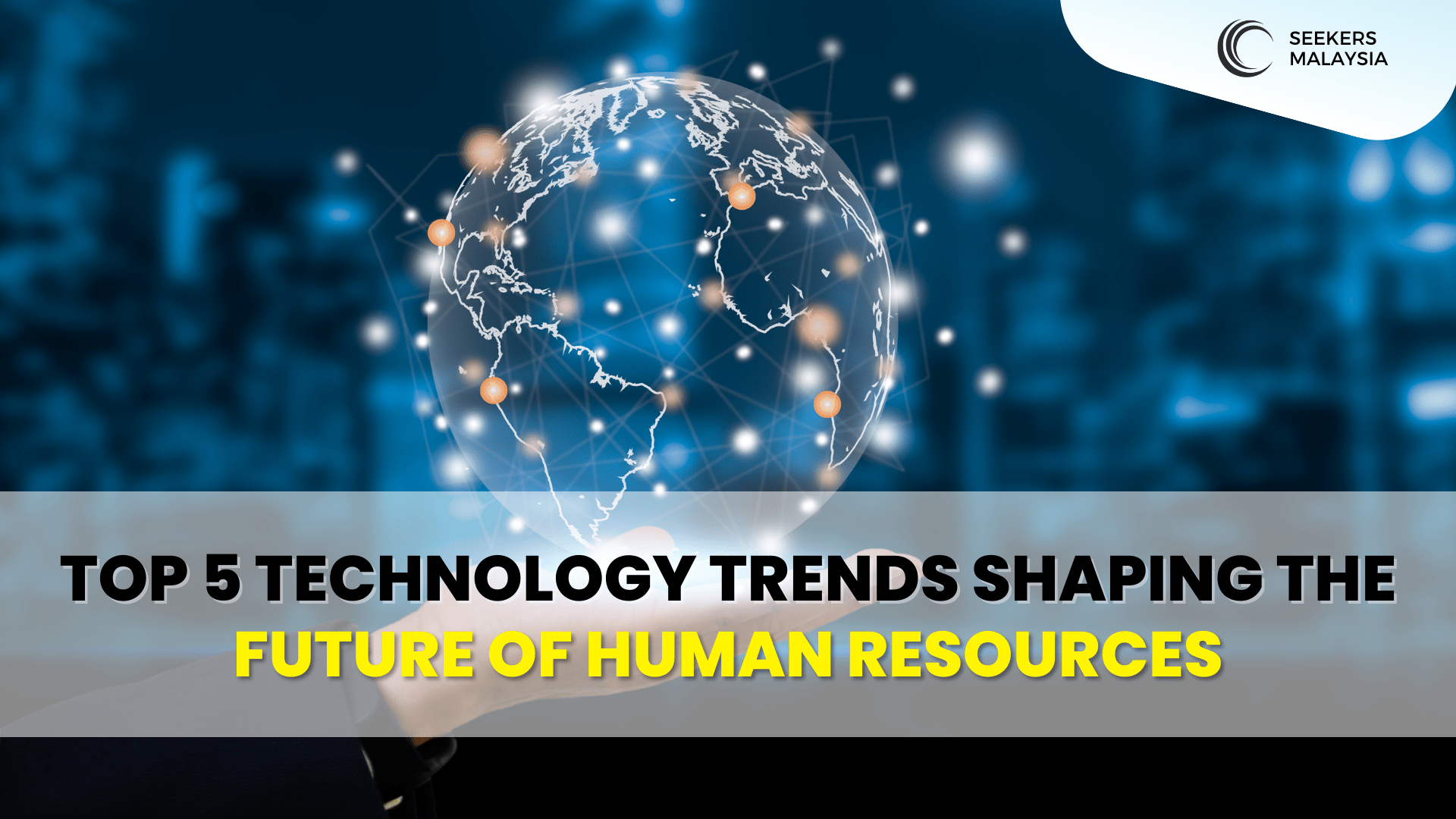 Anywhere Operations
One of the top strategic tech trends for 2021 identified by Gartner, 'anywhere operations' is an operating model that allows businesses to 'reach customers anywhere, enable employees anywhere, and use digital technologies to deliver business services anywhere.'

Anywhere operations powers the new normal via a hybrid environment where employees, contractors, business partners, and customers can operate both remotely and on-site as needed. This will require HR managers to embrace a digital-first, location-independent mindset in their recruitment strategy and employee development plans.

Total Experience (TX)

Defined as 'a strategy that creates superior shared experiences by weaving together the 4 disciplines i.e the multi experience (MX)—a multi-device computing environment, customer experience (CX), employee experience (EX), and user experience (UX)', TX was another top strategic tech trend identified by Gartner.

As interactions become increasingly mobile, virtual, and distributed, a total experience (TX) strategy 'creates business advantages and resiliency in the digital experience economy', according to David Cearley, Distinguished VP Analyst, Gartner.

This is especially relevant for organisations with frontline employees interacting directly with customers. With a TX strategy that identifies shared experiences in the employee and customer journey, HR managers will be able to optimise shared digital experiences for both employees and customers, which will bring about innovative business results.

Gartner further reports that 'By 2024, organizations providing a total experience will outperform competitors by 25% in satisfaction metrics for both CX and EX.'

Digital HR

The shift towards increasingly virtual and distributed workplaces has had a knock-on effect on all aspects of an organisation's operations, particularly HR. The focus on digital operations has been highlighted as one of the HR trends for 2021 by SelectHub.

The 2021 Deloitte Global Human Capital Trends report found that 'introducing digital collaboration platforms' is the most important factor in making remote/virtual work sustainable.

David Millner, Founder and Consulting Partner at HR Curator, supports this view but sheds further insight with his perspective that a digital HR approach goes beyond leveraging social, mobile, analytics, and cloud-based technologies to optimise HR processes.

Millner describes digital HR as an all-encompassing approach that aligns the work culture with digital-friendly talent practices, structures, and processes to balance efficiency with innovation opportunities as the organisation evolves.

Hyper-automation

Hailed as the next game-changer for the recruitment industry, hyper-automation is the natural progression from automation.

Using advanced technologies such as AI and machine learning, robotic process automation (RPA), and intelligent business management software, hyper-automation utilises the power of AI software to optimise your workflow efficiency and increase AI-driven decision-making across the board.

HR use cases include finding better candidates more quickly and enhancing KPIs such as time to hire, cost per hire, and quality of hire. Hyper-automation achieves this by collecting and processing data, optimising work processes to meet these performance goals, and incorporating data and efficiency measures into everyday processes.

Data & People Analytics

As remote and hybrid working become a part of the new normal, employers are now increasingly relying on data analytics and performance tracking tools to assess employees' engagement and productivity levels.

Besides employee performance, data also provides invaluable insight into pivotal areas of an organisation's operations, including HR. Examples include showing which HR practices are adding value at the strategic or business level, enabling HR to identify improvements to the employee experience and HR procedures, and demonstrating how a company's HR's functions are aligned with its business strategies and commercial demands.

A 2021 study on talent trends by Mercer found that '61% of executives globally say using talent analytics to inform decisions is the number one HR trend that has already delivered an impact.'

This was echoed by David Millner of HR Curator, who asserts that people analytics is here to stay and will play an integral role in HR operations over the coming years.

A Specialist Headhunting Service Powered by Technology & The Human Connection

Seekers Malaysia's unique recruitment ecosystem combines the power of technology with the human connection of freelance recruiters to effectively identify and locate suitable candidates both online and offline.

By crowdsourcing the headhunting process to Seekers' well-connected network of 22,000 freelance recruiters and leveraging our web platform and mobile app, we are able to reach the 'passive' 95% of job seekers—individuals who don't use recruitment sites and are not actively looking for jobs.

For optimal efficiency, Seekers has created a headhunting environment that combines the best of both worlds and promotes a flexible, collaborative approach that benefits all parties: employers, recruiters, and job seekers.
Learn more about our headhunting services or talk to us about your recruitment needs. We look forward to helping you find the right talents to drive your organisation's growth.
---
Performance-Based Headhunting Service for Specialist Talents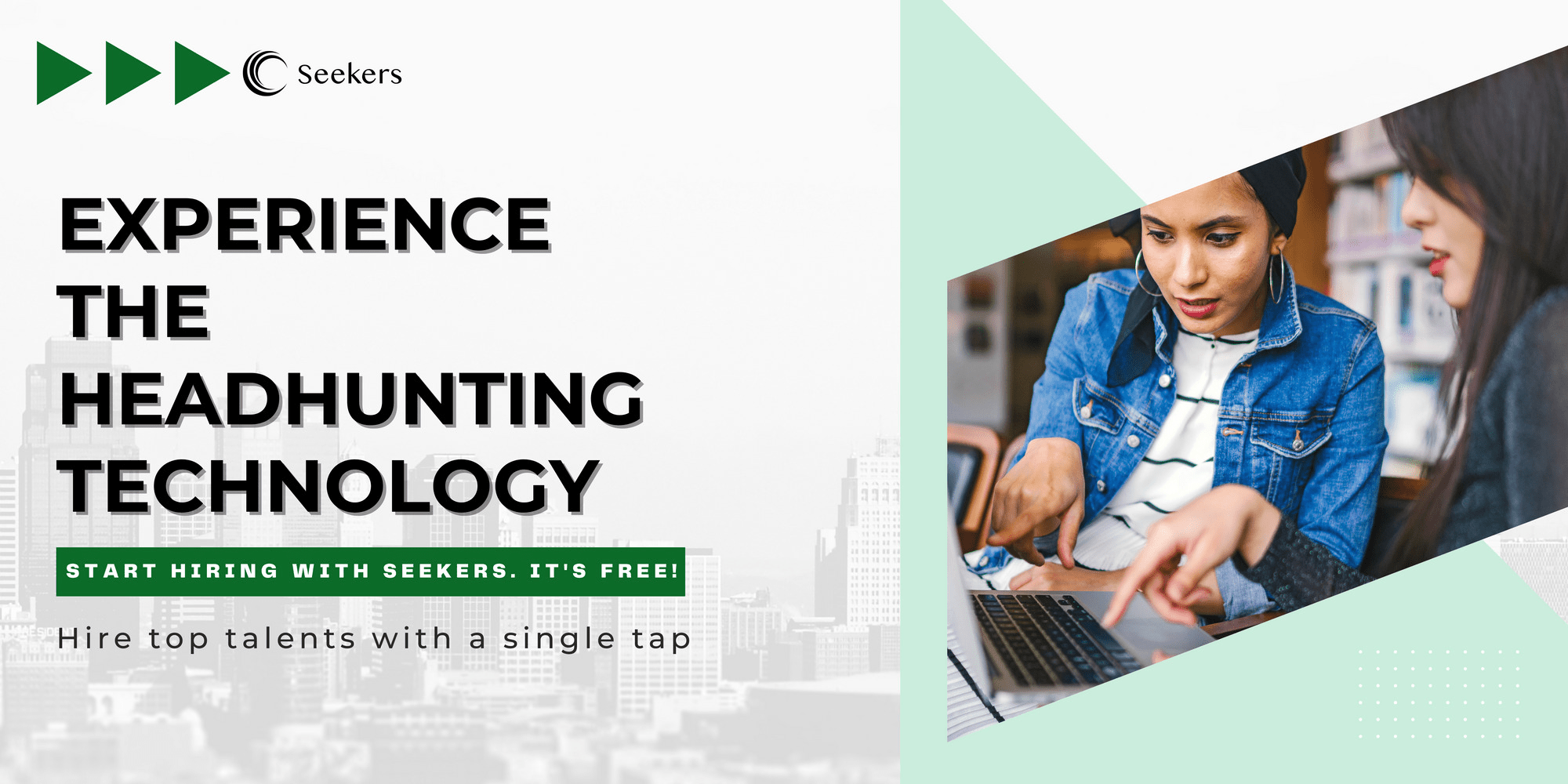 Seekers Malaysia is a results-driven, performance-based headhunting service that provides career consultancy, corporate support, and recruitment management services to help employers find and hire specialist talents across different digital and technological fields of expertise.

Our unique approach of combining technology with an extensive database of over 25,000 freelance recruiters allows us to quickly and efficiently identify and locate highly skilled and experienced professional talents best suited for your business goals and needs.

Learn more about our headhunting services or contact us to discuss your recruitment needs. We look forward to helping you find the right talents to drive your organisation's growth.