A Guide for Visa & Pass Malaysia 2021
---
Immigration Department of Malaysia has issued several types of visa and pass to make ease of expatriate's affairs. From this article, Seekers will share an exclusive review on types of visa/pass issued by Immigration Department of Malaysia for the year 2021.
VISA
For Visa, the Immigration Department has issued 3 types of visas which are:
i. Single Entry Visa
ii. Multiple Entry Visa
iii. Transit Visa
| TYPE | CONDITIONS | VALIDITY |
| --- | --- | --- |
| Single Entry | Foreign Citizen entering Malaysia for social/business purposes. | Not exceeding 3 months |
| Multiple Entry Visa | Foreign Citizen entering Malaysia for business/inter-governmental affairs. | Within 3-12 months |
| Transit Visa | Foreign National entering Malaysia for a transit to another country.*Staying inside airport premise and continue journey with same flight does not require a transit visa. | |
These visa applications can be applied at any nearest Malaysian Embassies and High Commissions Office Abroad and online application via eVISA .
PASS
Malaysia's Pass works as initial authorization on endorsements in the Passport or Travel Document for non-citizen to allowed entry to Malaysia. There are 10 types of passes which we will review on next the context of this article.
For note,  employers with plans to hire expatriates may consider these 3 types of   main employment pass which are:
Employment Pass Category I
Employment Pass Category II
Employment Pass Category III
EMPLOYMENT PASS CATEGORY I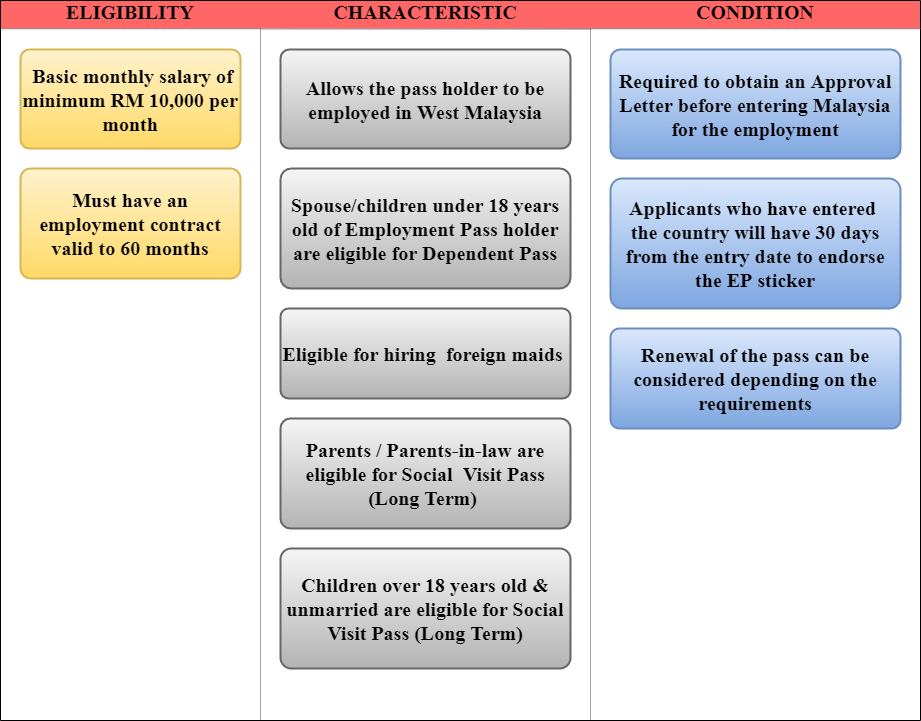 2. EMPLOYMENT PASS CATEGORY II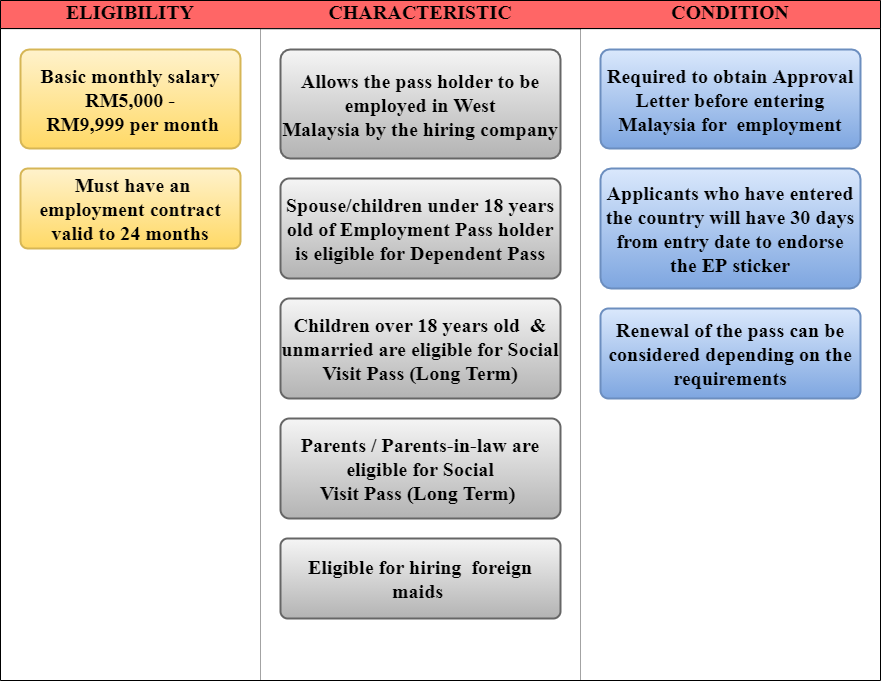 3. EMPLOYMENT PASS CATEGORY III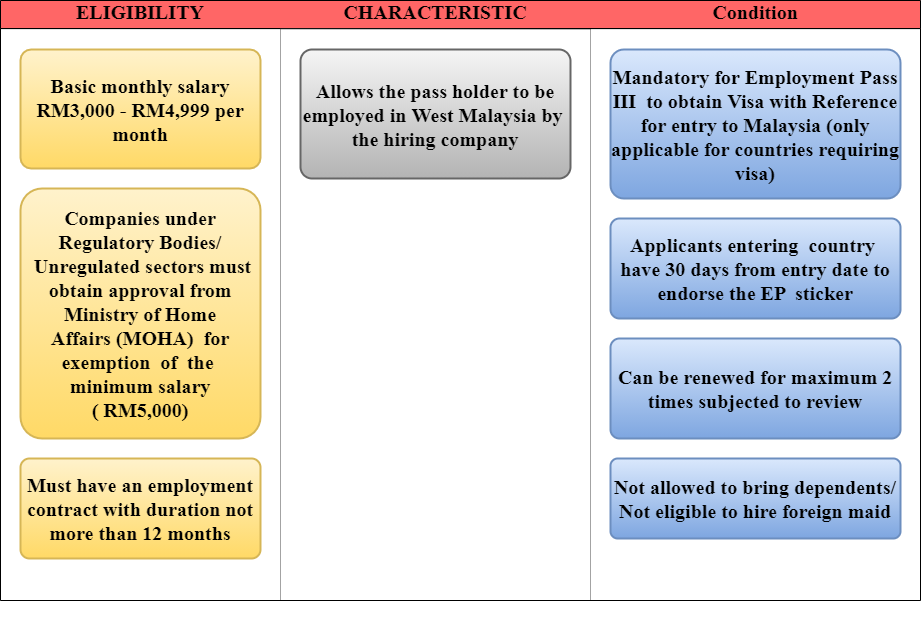 ---
4. DEPENDENT PASS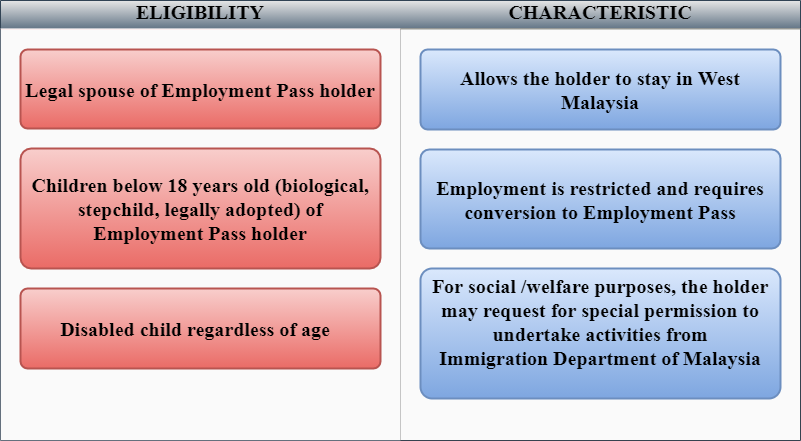 5. SOCIAL VISIT PASS(LONG TERM)/SPOUSE VISA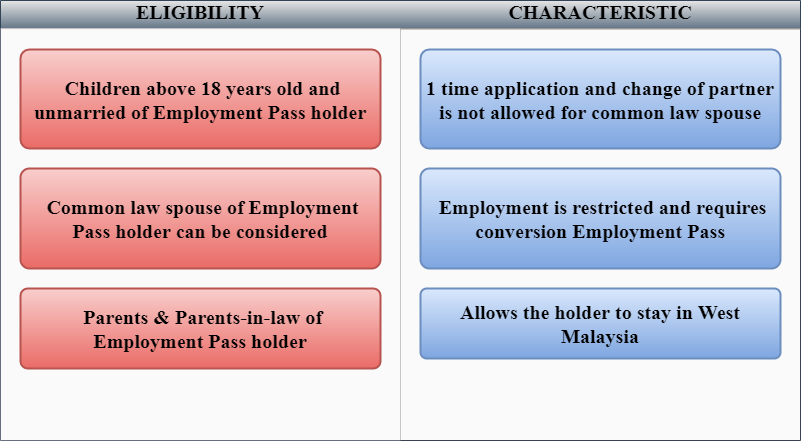 Application of Working Permit for Spouse of Malaysian Citizen (Spouse Visa)
With this pass, the foreign husband or wife is permitted to work in Malaysia without having to change their Social Visit Pass to the Employment Pass on condition that the spouse has acquired work approval from the Immigration Department.
The  approval is in the form of an endorsement on the passport/travel document and the endorsement is given free of charge.
Condition
i. The pass endorsement entitles the holder to work in any legal profession.
ii. Application for the endorsement can be made at the Visa, Pass and Permit Division  Immigration HQ or at the nearest state Immigration office.
iii. The permit is effective any time after or during the submission of the Social Visit Pass.
iv. The letter of application need to be submitted together with:
a copy of the letter of appointment/company registration evidence
marriage certificate (marriage period need to be  6 months and above).
a valid Long Term Social Visit Pass.
6. VISIT PASS (TEMPORARY EMPLOYMENT)-Foreign Maids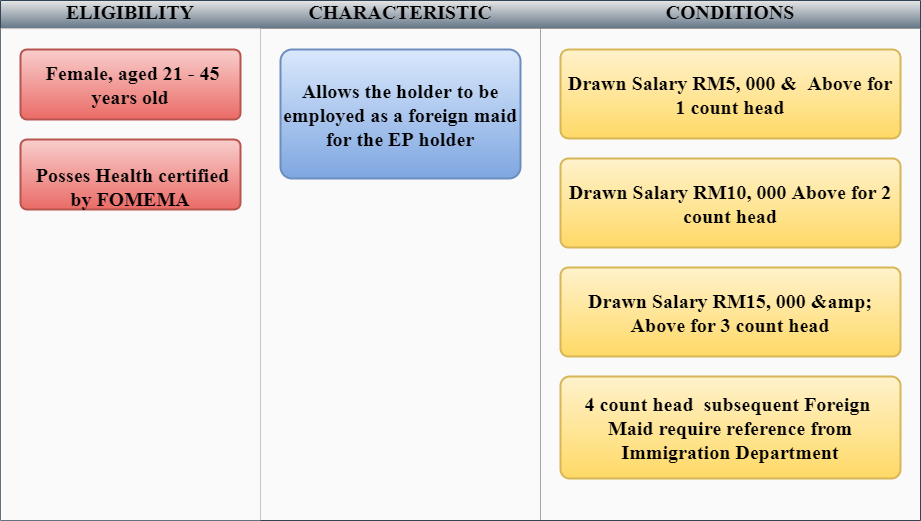 7. PROFESSIONAL VISIT PASS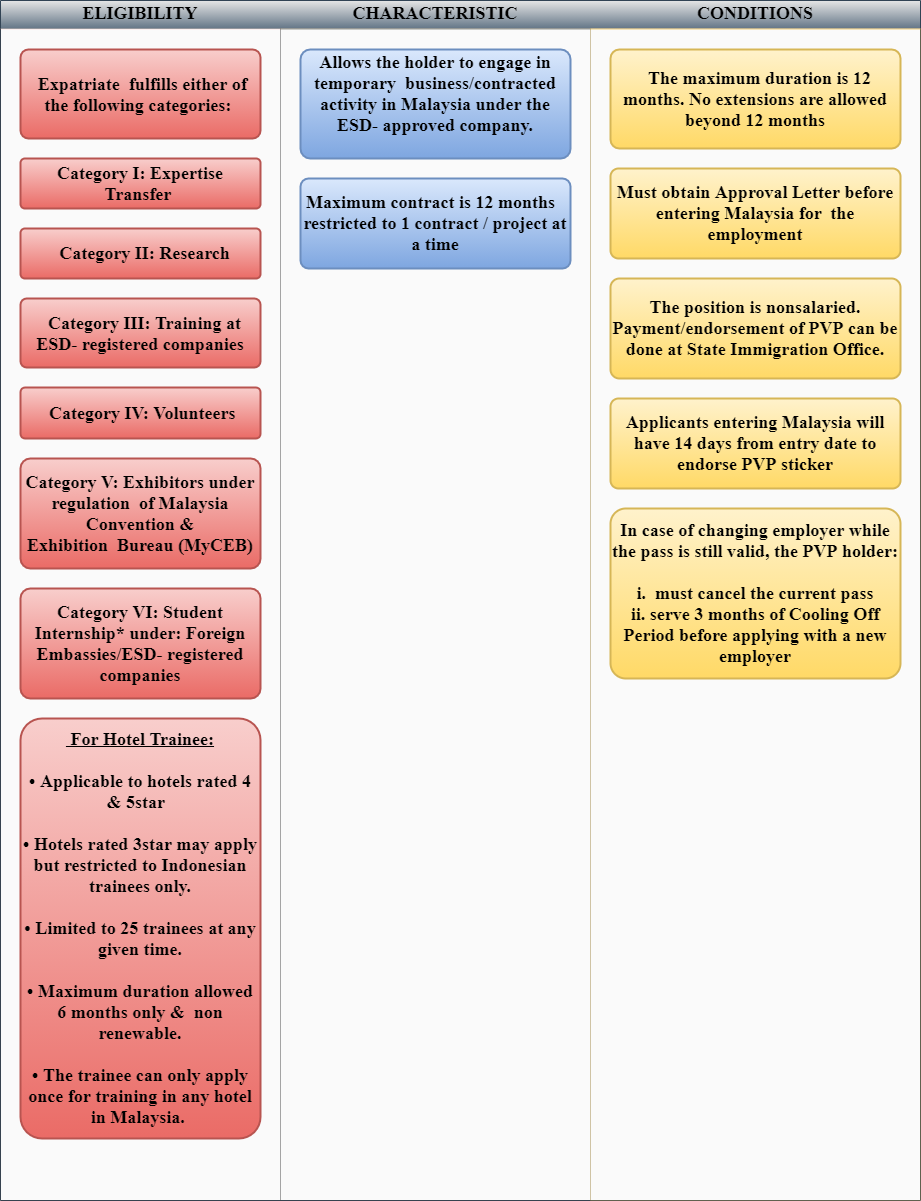 8. SOCIAL VISIT PASS - INTERNSHIP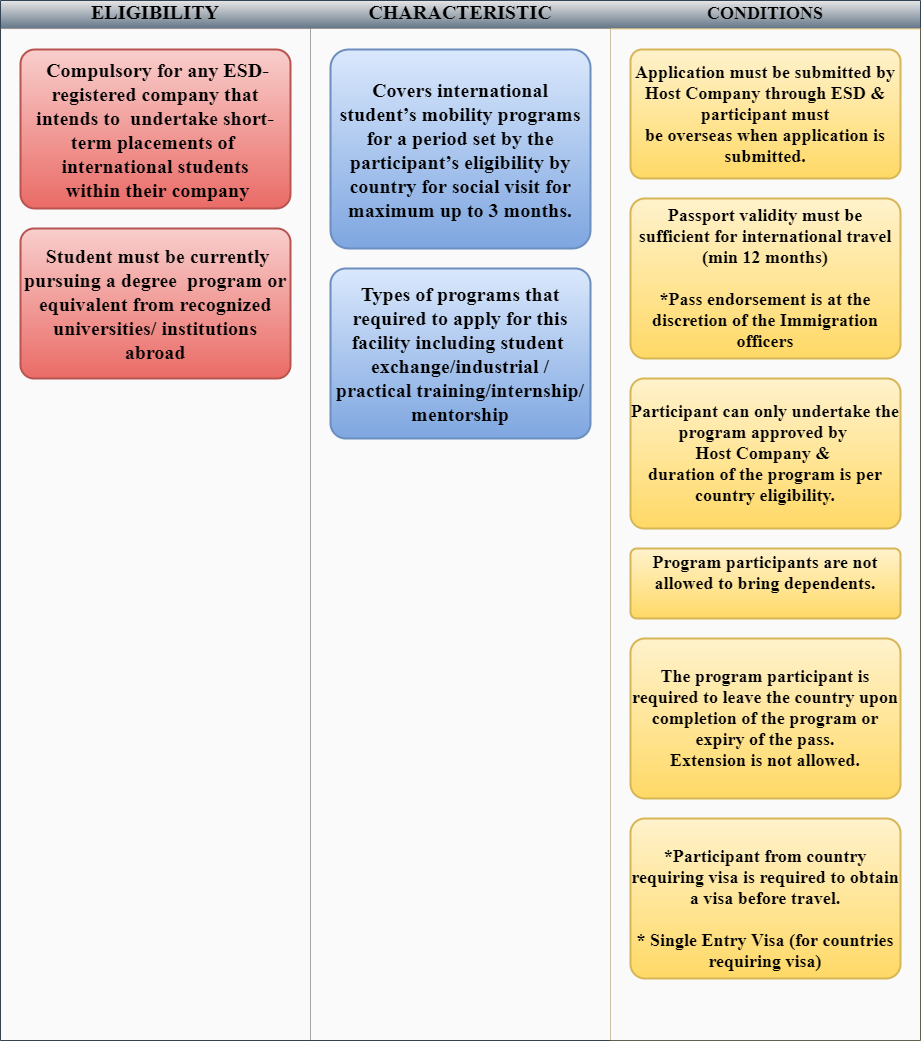 9. RESIDENCE PASS

Residence Pass is a pass issued to any foreign national who falls under any category specified under Regulation 16A, Immigration Regulations 1963.
Residence Pass consist of :
Category 3: A person with family ties with a Malaysian citizen
Category 4: A person with family ties with a Permanent Resident of Malaysia.
Category 5: Ex-Malaysians
Residence Pass Talent- RPT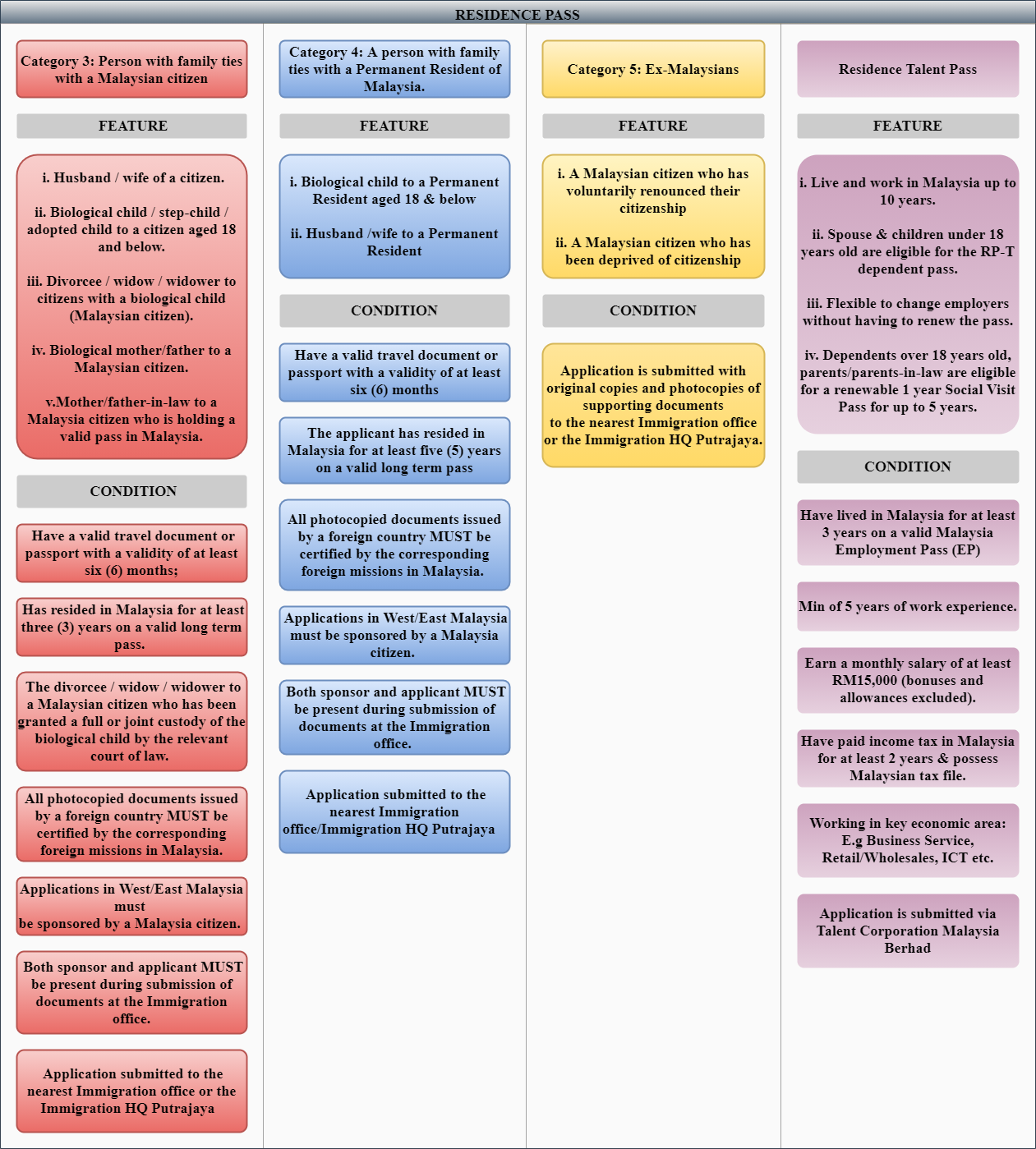 10. MALAYSIA MY SECOND HOME(MM2H)
Malaysia My Second Home (MM2H) is a program promoted by the government of Malaysia to allows the foreigners  to stay in Malaysia for as long as possible on a multiple-entry social visit pass based on fulfillment of criteria.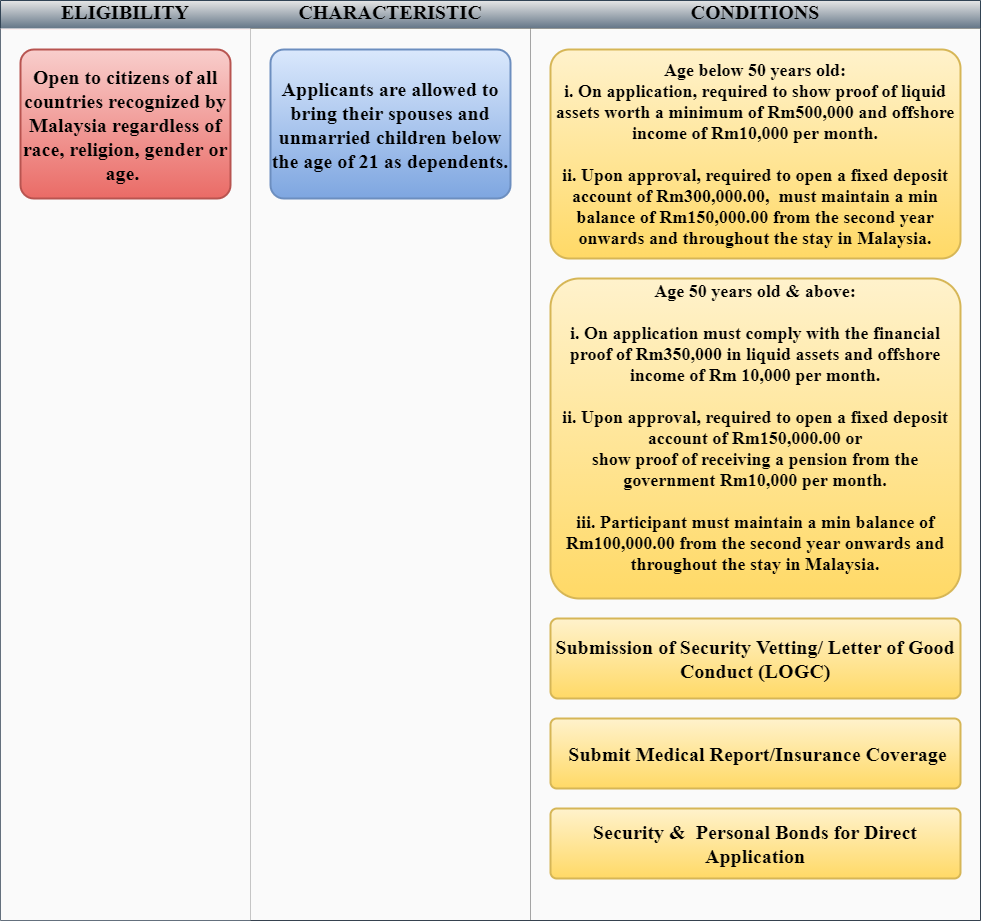 ---
NOTE
The above procedures are for references purposes for now. There may be changes of procedures Immigration Department Malaysia along the way.
Source: The Expatriate Services Division (ESD), Immigration Department of Malaysia, Attorney General Chambers Of Malaysia, Talent Corporation Malaysia Berhad, MM2H.
---
Are you still seeking for great expatriates or local candidates for your company?

Advertise your job ads with Seekers SRS, have access to scout reliable candidates from different level of expertise. A bespoke recruitment technology for automated hiring!
Some of the top features for Seekers SRS:
Free job posting (Permanent access)
Candidate Database Access (Scout candidates on your 1st month for free)
Freelance Recruiter Boost (20,000 recruiters in Malaysia will find a top candidate for you)
Cross-functional ATS (Application Tracking System)
Keyword Tagging Automation​
Company Introduction Builder​
---