Looking to Hire Digital Marketing Specialists? 5 Reasons to Use a Headhunting Service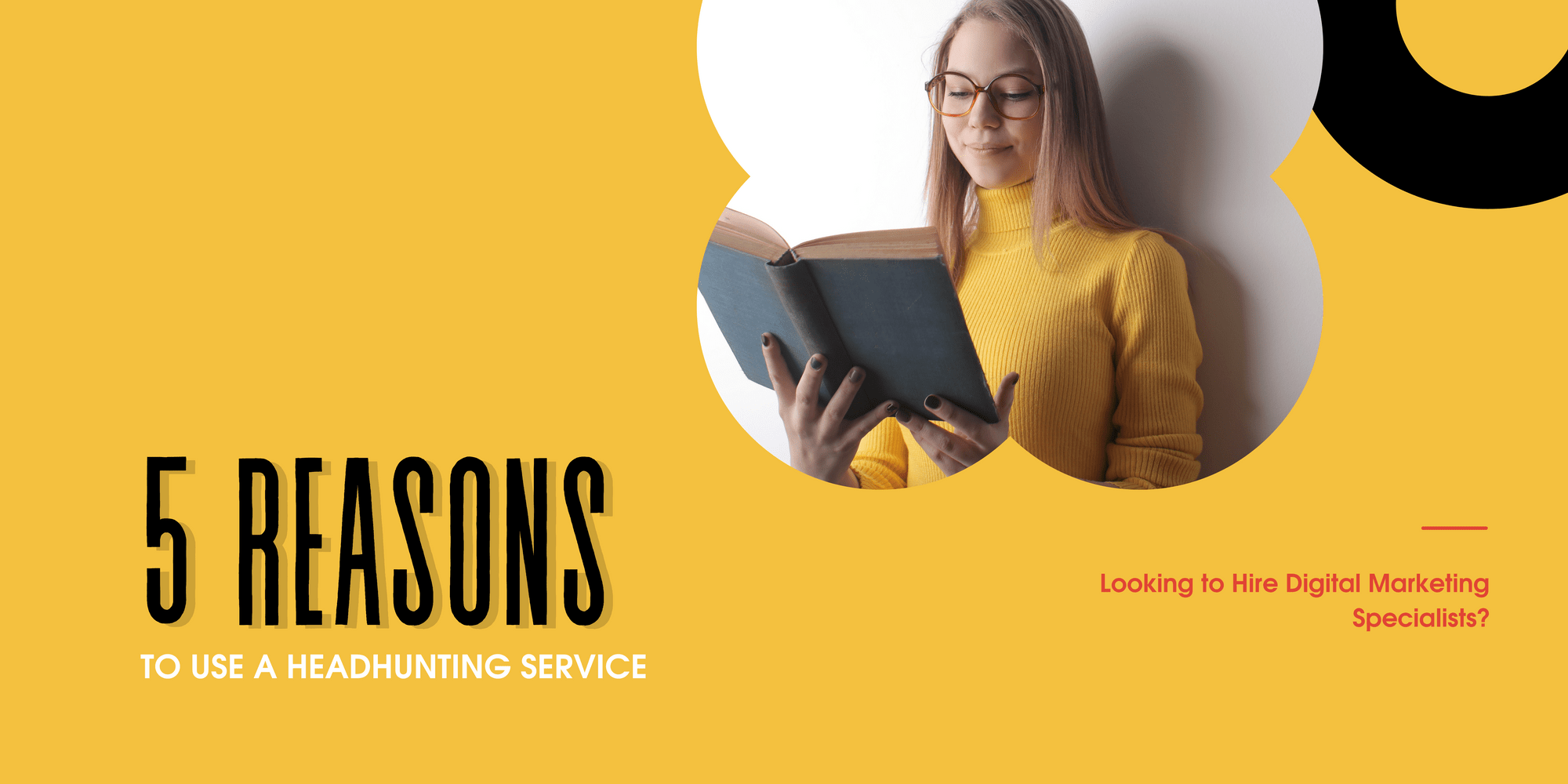 Looking to Hire Digital Marketing Specialists? 5 Reasons to Use a Headhunting Service

HubSpot explains the concept of digital marketing best: "Marketing has always been about connecting with your audience in the right place and at the right time. Today, that means you need to meet them where they are already spending time: on the internet."
The Importance of Digital Marketing Specialists for Modern Businesses
Digital marketing, at its core, refers to any form of marketing that's designed for the online marketplace. According to Marketo, "Think with Google marketing insights found that 48% of consumers start their inquiries on search engines, while 33% look to brand websites, and 26% search within mobile applications."

It is therefore essential for any modern business to build a strong digital marketing team that's internet-savvy and experienced in the latest online marketing strategies to stay relevant and profitable.

If you're one of those businesses looking to hire digital marketing specialists to contribute the latest insights on digital marketing trends and opportunities for your particular business sector, you might want to consider using a headhunting service.
What Does a Headhunting Service Do?
Headhunting, also known as executive search, is a specialised recruitment service that focuses on identifying high-calibre candidates for senior executive and specialised positions. They can include senior management executives, specialists in IT, tech, and digital marketing, multi-lingual customer support agents, and accounting professionals, among others.  

Statista reports that the global executive search industry grew from EUR10 billion in 2012 to an estimated worth of EUR18 billion in 2020, with predictions for further growth in 2021.
A Results-Based Headhunting Approach
In contrast to typical headhunting agencies in the market, Seekers Malaysia provides a unique results-based approach that focuses on reaching passive candidates—those not active on job portals.

By leveraging technology and an extensive human network of freelance recruiters, Seekers provides a far more efficient and proactive recruitment ecosystem that helps employers identify and locate the best talents quickly for their organisation.

If you're looking to hire experienced and highly skilled Digital Marketing Specialists, let us know your requirements and we'll get the talent search started for you.
5 Ways Seekers' Headhunting Service Will Help You Hire the Best Digital Marketing Specialists Quickly & Efficiently
Leveraging Connection x The Human Touch
Seekers' unique recruitment ecosystem combines the power of technology with the human touch of freelance recruiters to effectively identify and locate suitable candidates both online and offline.

Using our web platform and mobile app, freelance recruiters help suitable candidates apply for job vacancies using unique links for their individual profiles. The recruiters also get access to online resources on the app to help grow their freelance earnings.

By crowdsourcing the headhunting process to Seekers' well-connected network of experienced freelance recruiters, we are able to reach passive job seekers for Digital Marketing Specialist positions—individuals who don't usually use job portals or job search sites. Technology can do a lot, but it can't replace the human touch required in consultations, persuasion, and negotiations.

For optimal efficiency, Seekers has created a headhunting environment that combines the best of both worlds and promotes a flexible, collaborative approach that benefits all parties: employers, recruiters, and job seekers.
Reaching the 95% Passive Job Seekers for Digital Marketing Specialist Positions
Despite the popularity of job search sites among employers, research shows that job portals are only actively used by 5% of the total candidate pool. This means that job ads fail to reach 95% of total job seekers—individuals who might be interested in a career change but are not actively looking for jobs.

Job portals might be an effective avenue to target individuals actively looking for a new job, but they are not necessarily designed to find the best candidate for the job. By focusing on reaching the 95% "passive" job seekers, we are expanding the search grid to attract and identify Digital Marketing Specialists who are most well-suited to your organisation's corporate culture and business needs.
Crowdsourcing the Search to Freelance Recruiters
By enlisting the services of experienced and well-connected freelance recruiters with extensive industry contacts and professional networks, the headhunting process becomes much more time and cost-efficient, which benefits the employer, job seeker, and recruiter.

Seekers' constantly growing database of over 22,000 freelance recruiters enables us to better meet the needs of employers looking to hire Digital Marketing Specialists with a diverse range of experience and skillsets. The labour-intensive and time-consuming nature of the headhunting process makes crowdsourcing the ideal solution, especially for employers in urgent need to fill a specific vacancy or those lacking the expertise to manage it on their own.
All-Inclusive Headhunting Services
Seekers provides an all-inclusive headhunting service via a dedicated team of Career Consultants, Corporate Care, and Recruiter Management professionals to ensure that every aspect of your recruitment needs is fully taken care of.

We'll provide a consultation session where we advise you on the market rate for an experienced Digital Marketing Specialist's average salary. Applications for the position are then put through a careful double-screening process: first an automatic screening through our ATS (Application Tracking System), then a manual screening by our professional Career Consultants.

Once suitable Digital Marketing Specialist candidates are identified, we'll arrange for the interview to take place, and if all goes well, we'll facilitate negotiations to reach an amicable agreement for both employer and candidate. Finally, we'll deliver the offer to the candidate and help to reduce application drop-outs.
No Charge Until You Hire
For your peace of mind, Seekers' headhunting service is fully performance-based. We will only charge you once the employment contract is signed and the deal is sealed.

If your organisation is looking to hire a professional Digital Marketing Specialist, talk to us about your requirements! Alternatively, you might like to learn more about our headhunting services.

We look forward to helping you find the right talent for your organisation.
---
Performance-Based Headhunting Service for Specialist Talents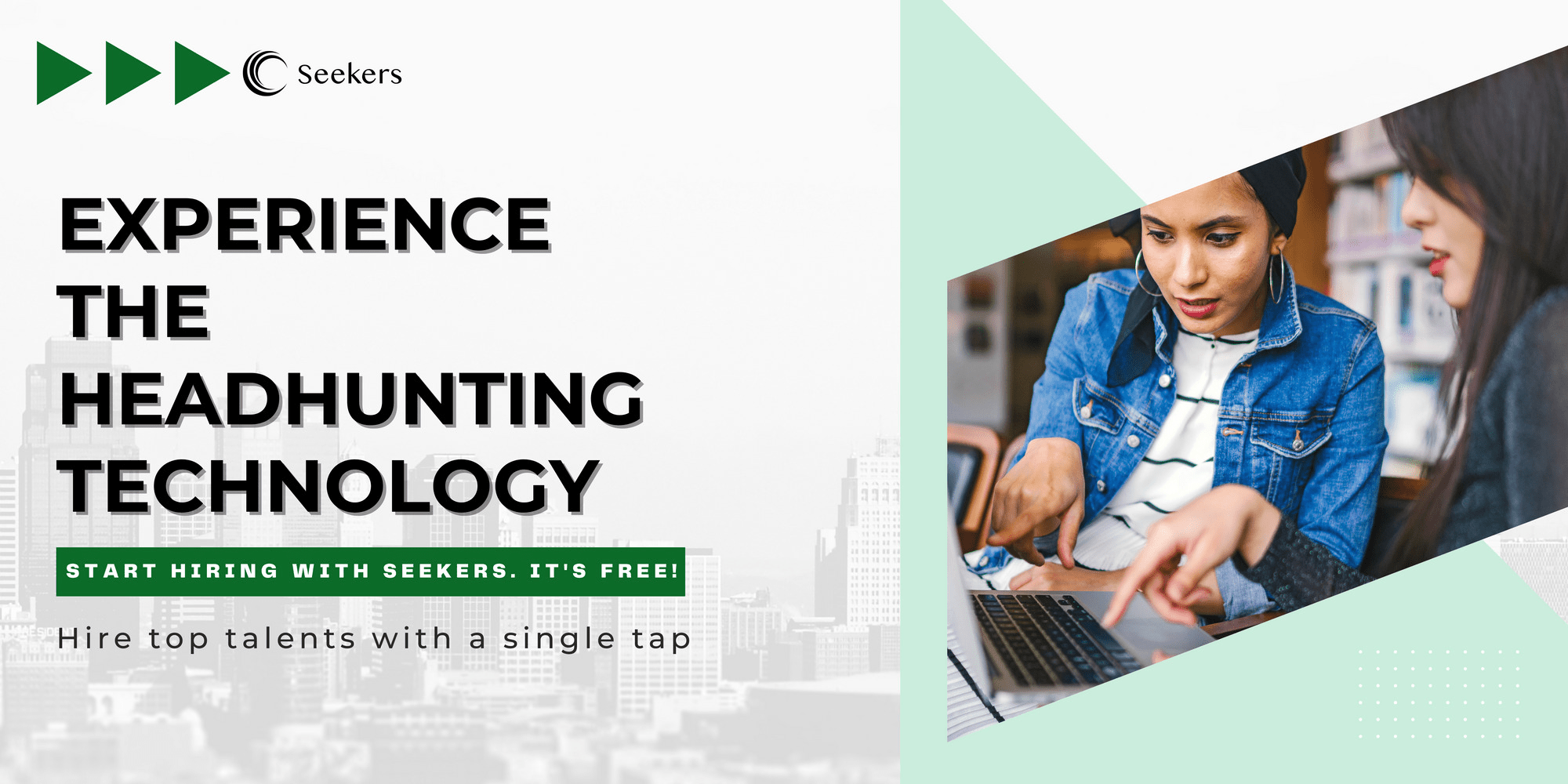 Seekers Malaysia is a results-driven, performance-based headhunting service that provides career consultancy, corporate support, and recruitment management services to help employers find and hire specialist talents across different digital and technological fields of expertise.

Our unique approach of combining technology with an extensive database of over 25,000 freelance recruiters allows us to quickly and efficiently identify and locate highly skilled and experienced professional talents best suited for your business goals and needs.

Learn more about our headhunting services or contact us to discuss your recruitment needs. We look forward to helping you find the right talents to drive your organisation's growth.