How to use the Interview Scheduler & Scout properly?
Thank you for using Seekers Recruitment System ("SRS") for your hiring projects.
First of first, we must apologize for the performance of Free Job Posting. We are getting a lot of encouragement, and improving it (around 20% per month growth for now).
Anyway, this article is to share the new improvements. Let's begin!
---
New Interview Scheduler
Step 1: Drag a card, and drop on "Interview Schedule"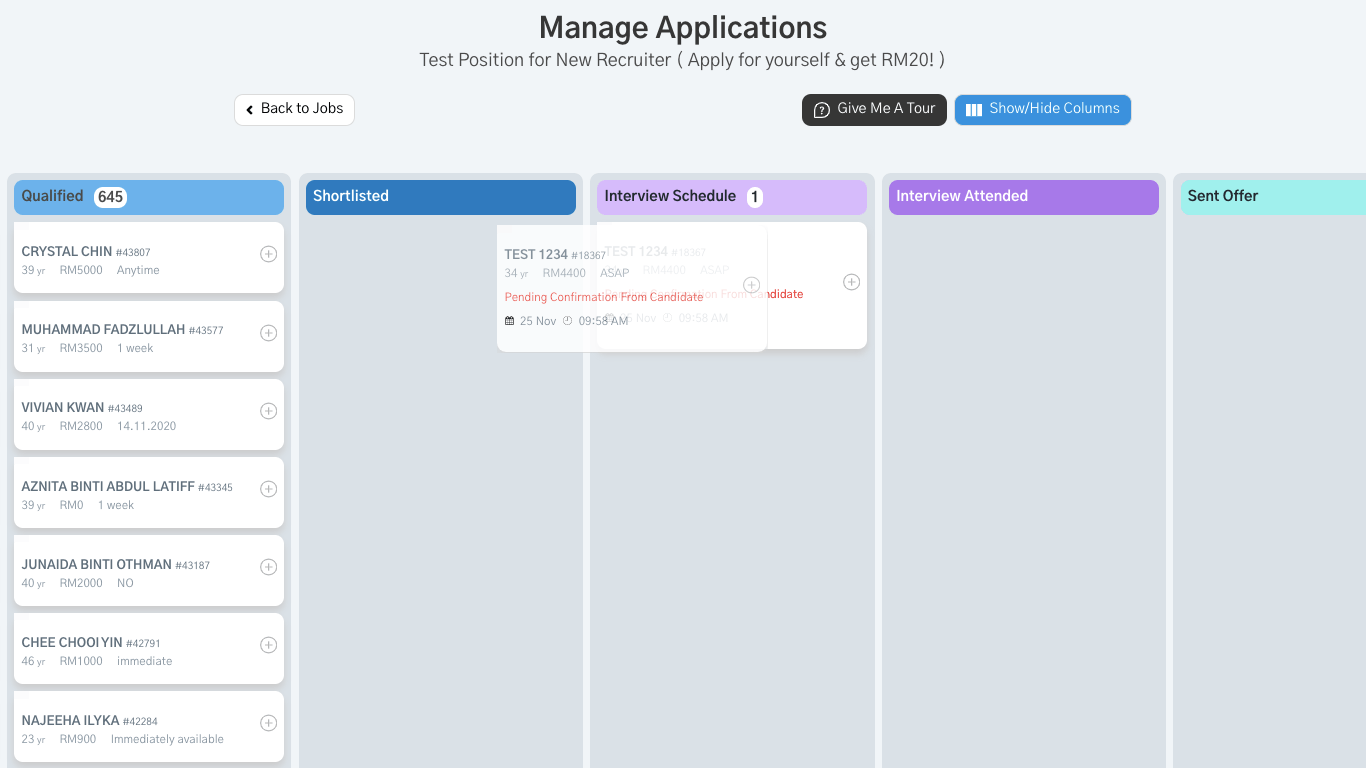 Nothing special, just drag and drop the candidate card as usual please.
Step 2: Setup the Interview Details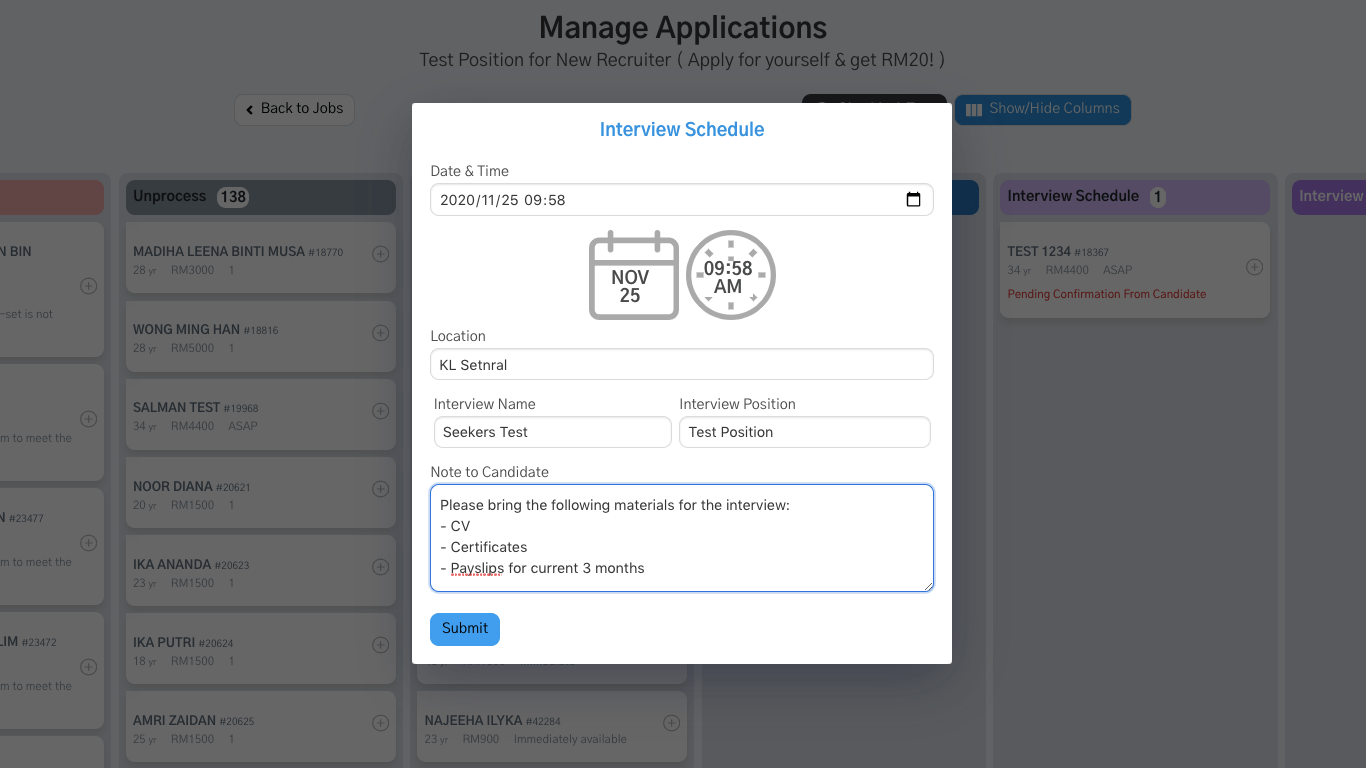 As soon as dropped the card, this interview scheduler will pop-up on your screen.
Date, Location, Interviewer Details, and Note are the necessary things because that's what Candidates want to know.
Step 3: Just Submit and wait for the confirmation (or reschedule request)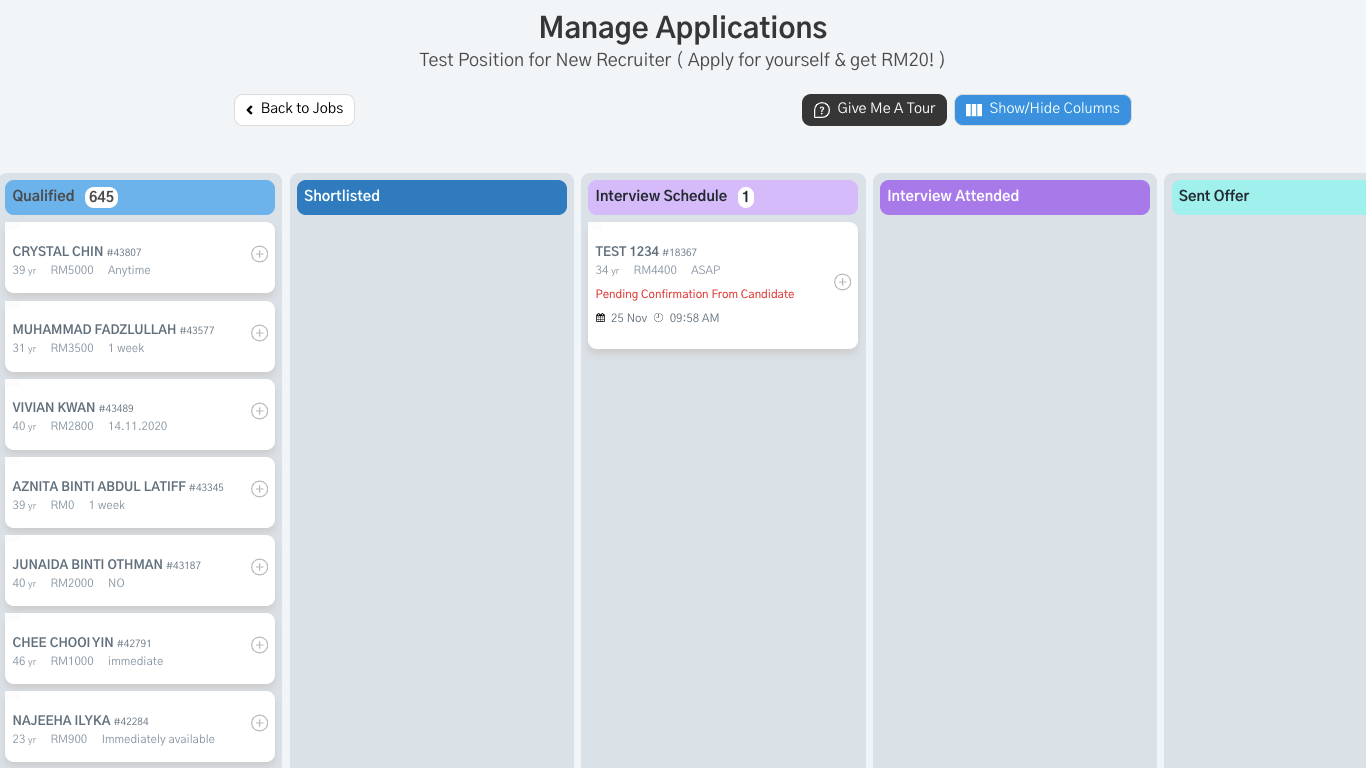 Now you can see the red-color text, "Pending Confirmation", can't you?
For now, candidates are receiving the notification via email and SMS, and replying from there. (Candidate Mobile App will be launched on 1st Dec 2020, so response rate will be higher).
If candidate is not available, they would request for an alternative schedule, and you can react from SRS.
Maybe, to have a quick phone call first with the candidate before moving the card, and use this function for the confirmation purpose is also pretty good.
According to our candidates, they are happy with receiving this confirmation message from the system - well, it's the modern age people - so hope you can utilize the function to reduce the MIA (missing in action = no-show interview) rate.
---
DB Scout Preserves your Search Conditions
It's reported that "it's heck a lot of work to setup the same condition every time to scout multiple candidates".
Wow, that's embarrassing to know,,,, so we fixed.
Step 1: Search as Usual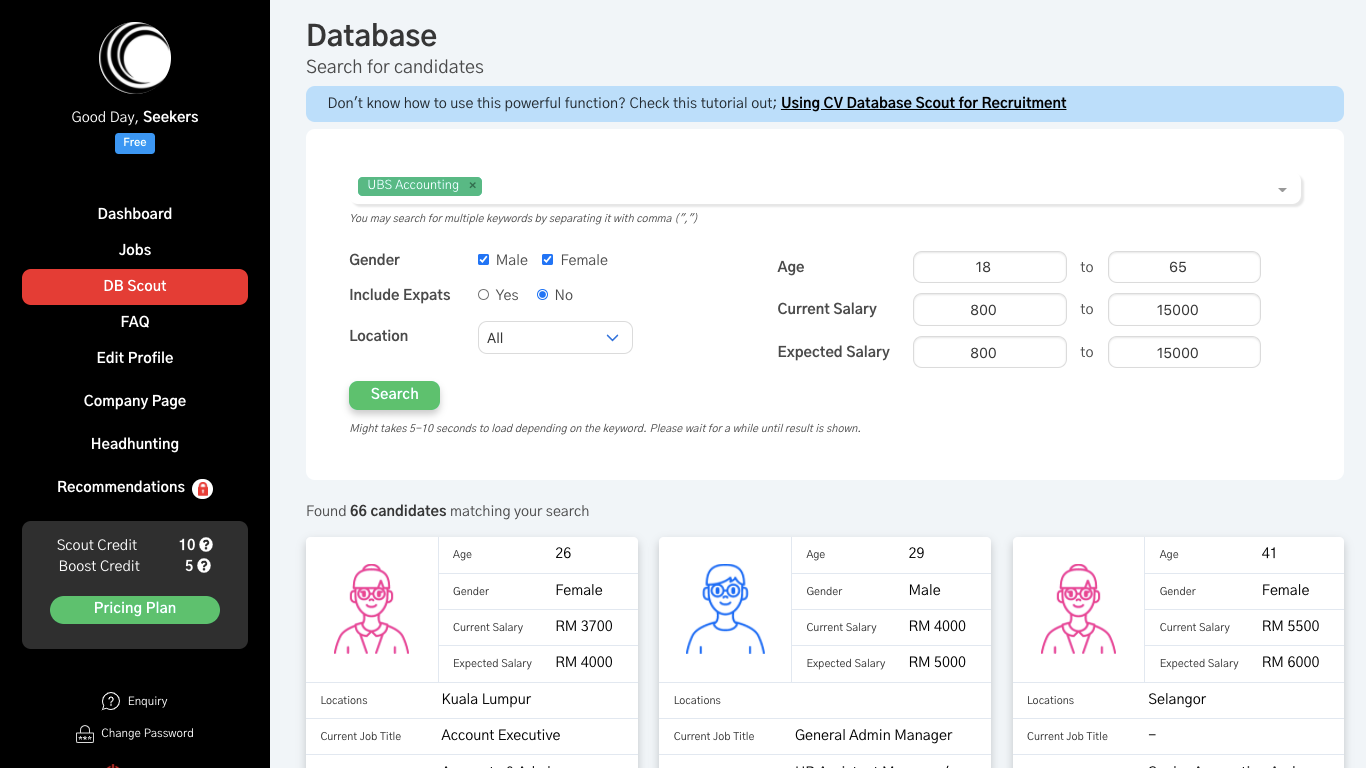 By the way, we also improved the keyword drop down list. You may find more effective keywords there. This time, I chose UBS Accounting.
Step 2: Choose a Candidate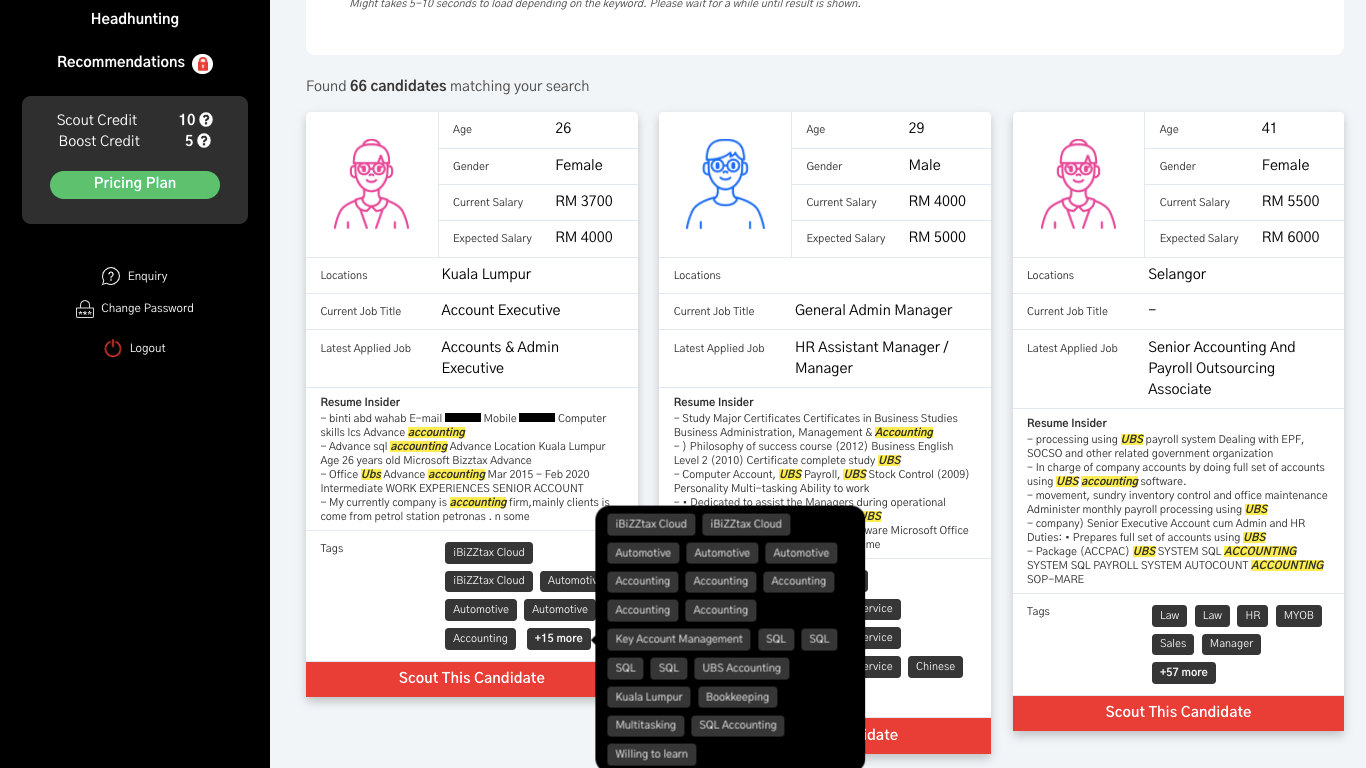 I target the first candidate.
Step 3: Confirm or Cancel to Scout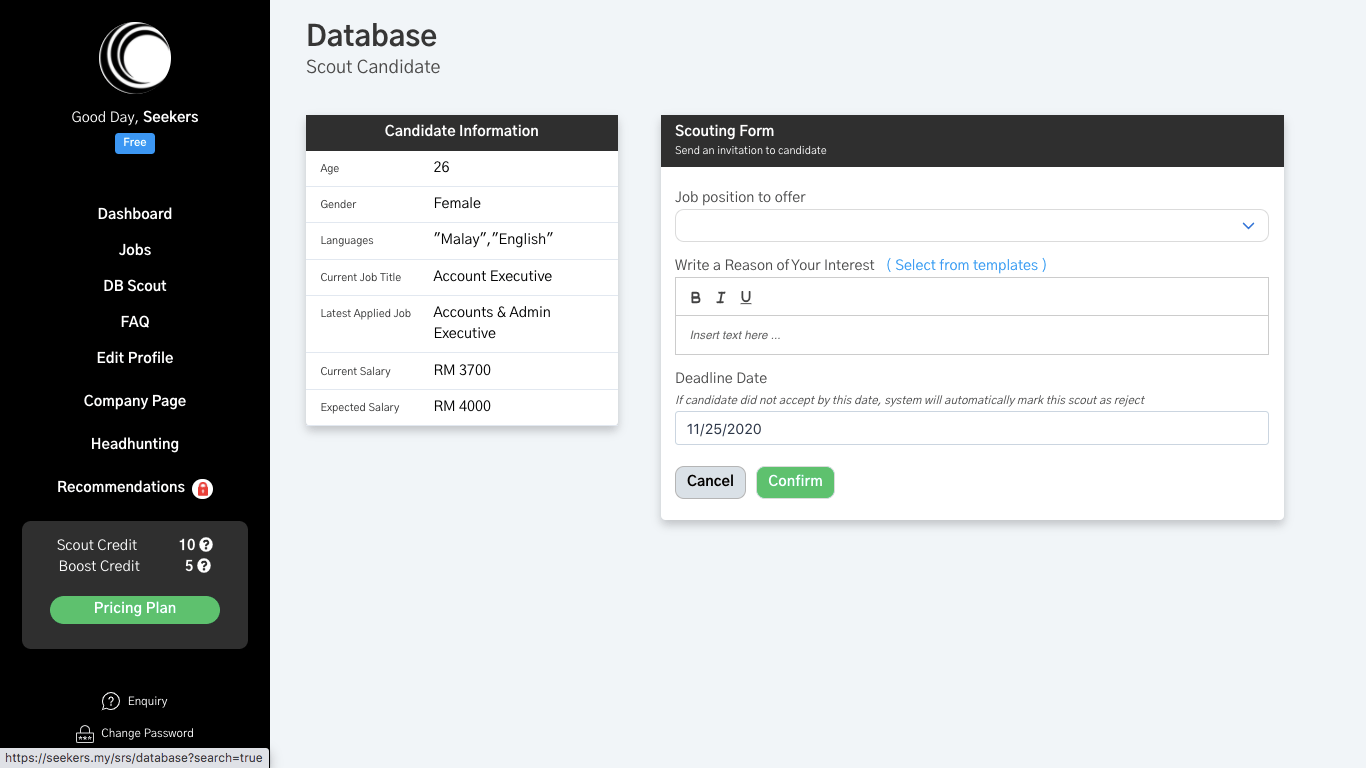 You may change your mind here, so please feel free to click the cancel button. Even you confirmed the scout, next step should be convenient for you.
Step 4: Continue with the Search Result
Yes, all the conditions are remained. It may seem to be a small enhancement for you, but development was not easy... anyway, please enjoy the better scouting environment!