Exit and Return to Malaysia During RMCO Period| A Immigration Malaysia Guideline for Expatriate
View this article in Bahasa Malaysia.
This article is a guideline to attain permission to exit and return to Malaysia for Expatriate /Skilled Worker/Knowledge Worker/Residence Pass-Talent (RP-T)/Professional Visit Pass, Dependents/Long Term Social Visit Pass((LT-SVP)/Foreign Maids during Recovery Movement Control Order(RMCO) from 31/8/20 - 31/12/20.
Covid-19 pandemic has prompted for a close border concept and poses unprecedented challenges to employers with expatriate workers. This leads to confusion and questions on expatriate's welfare and movement within Malaysia. Are they not allowed to exit Malaysia at all?
But worry not as Immigration Malaysia has issued a standard of procedures for an expatriate to exit and return to Malaysia for work.
---
Procedure for Exit and Return - For expatriate with  below Active Pass who desires to leave Malaysia and return afterwards:
i. Employment Pass Category (EP I/ II/III)
ii. Residence Pass Talent (RP-T)
iii. Professional Visit Pass (PVP), Dependants
iv. Foreign Maids for (EP I/II /III & RP-T)
v. Long Term Social Visit Pass (LT-SVP) for (EP I/I, III & RP-T)
For note, permission to Exit and Return to Malaysia will ONLY be considered for the purpose of emergency cases and medical reasons.
Before leaving Malaysia, the expatriate  has to apply for Permission to Exit Malaysia and Return via MYEntry  to obtain the decision from Director General of Immigration Department Malaysia (DGIM).
For more details about entering Malaysia for Expatriate who are currently abroad, please refer to this article and Entry Mind Map.
Approval by the DGIM is within  3-5  working days from the date of the submission.  
For further details:
Contact: +603 8880 1449
ESD HQ: Immigration Department Malaysia, Level 3 (Podium) No 15, Persiaran Perdana, Precint 2, 62550 Putrajaya.
Step 2
Upon receiving Permission to Exit and Return Letter from DGIM, the Expatriate may exit Malaysia and provide the Exit and Return Letter upon departure.
Kindly note, the Expatriate is allowed to exit Malaysia but must return within (60) days from the issuance date of the Exit and Return letter.
Step 3
Before returning to Malaysia, expatriate is encouraged to undergo PCR Covid-19 Test abroad within (3) days before departure and must be medically tested NEGATIVE for Covid-19.
It is compulsory for the expatriate to Download and Install the " My Sejahtera" mobile application before departure.
It allows the Ministry of Health (MOH) to monitor health conditions, and for them to be able to take immediate actions in providing the treatments if required.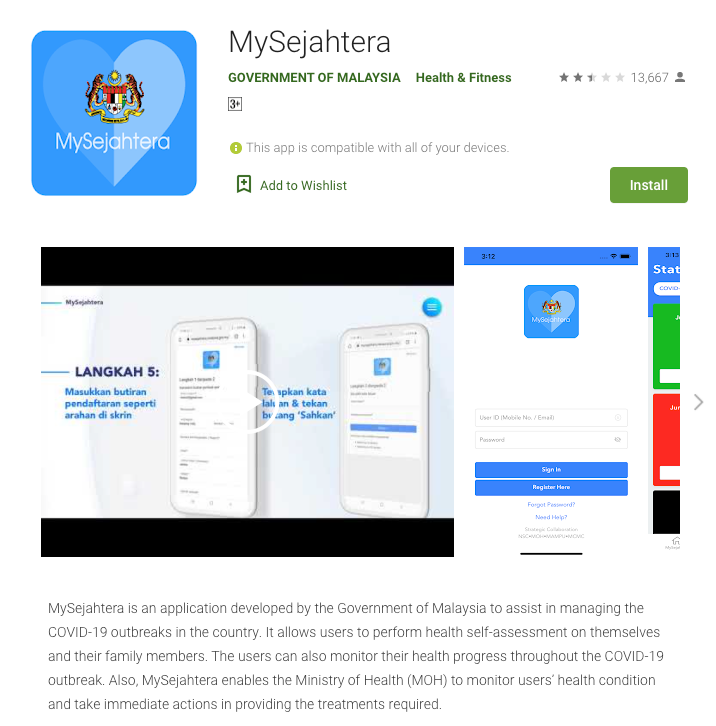 Step 4
Upon arrival to Malaysia, expatriate must present below documents at the entry point:
i. Entry Approval Letter
ii. Valid Pass/ Approval Letter/Visa with Reference (VDR)
iii. PCR Covid-19 Test Abroad Result (If any)
At entry point, the expatriate will undergo another PCR Covid-19 Test by the Ministry of Health (MOH) and Compulsory Fourteen (14) days quarantine at a Quarantine Center. The cost of  PCR Covid-19 Test and quarantine center cost shall be borne by the expatriate.
As reminder, Failing to pay ALL COSTS or any MONIES DUE to the Government of Malaysia,  expatriate's active pass will be cancelled, blacklisted in Immigration system and issued with Notice of 'Not To Land' (NTL) for deportation.
Therefore, all expatriates are required to comply with rules and regulations set by the Immigration Department of Malaysia.
Permitted Malaysia Entry points:
i. Kuala Lumpur International Airport (KLIA 1 & 2).
ii. Sultan Ismail International Airport, Senai, Johor
iii. Bayan Lepas International Airport, Penang.
iv. Langkawi International Airport, Kedah.
v. Kuching International Airport, Sarawak.
vi. Kota Kinabalu International Airport, Sabah.
vii. Sultan Abu Bakar Complex (2nd Link), Johor (Entry by automobile).
vii. Immigration Checkpoint, Sultan Iskandar Building (BSI), Johor (Entry by automobile).
---
Procedure for Exit only - Applicable to expatriate in Malaysia with a plan to leave the country for good: e.g. contract ending/ expiring or Pass has been shortened.
For expatriate with this case, they are not required to apply MYEntry and exempted to obtain Permission to Exit Malaysia from Expatriate Services Division.
---
Note
The above procedures are for references purposes for now. There may be changes of procedures by the Ministry of Health, Malaysia or Immigration Department, Malaysia along the way.
Source: The Expatriate Services Division (ESD).
---
How to get the latest HR News & Updates?
We Seekers have been developing a free tool called SRS (Seekers Recruitment System), which you can receive latest HR News on the dashboard.
Some of the key features for Seekers SRS:
Free Job Posting (permanently)
Candidate database access (Free 1 month access to Scout function )
Freelance Recruiter Boost (20,000 recruiters in Malaysia will hunt a talent for you)
ATS (Application Tracking System)
Company Introduction Builder
We hope our information helps, and SRS will assist in your future HR duties!
---