Headhunting and Recruitment Plan | Seekers
Hire faster with Seekers in less than 2 weeks.
Most companies will look into the best ways (with a specific budget to consider) to hire and usually end up using job posting as their first approach. Most job portal eventually provides the best hiring plans or subscriptions you can get for the worth of money.
However, the effectiveness comes down to drain once you agree with the "good deal" most job portals provide and turn out they just rotating their old database straight to your email/dashboard.
You feel your investment pays a huge return when you receive hundreds of CVs daily from the job portal. But congratulation, you will only burden yourself with more clerical work to do hundreds of CV reviews and calls just to find out that out of hundreds, only a few CVs make sense.
If that is your struggle, time to give Seekers' Headhunting a try!
---
3 Reasons to Use Headhunter
IF you are aiming for quick and quality hiring, headhunting will be the best choice for you. Here are a few mistakes most companies made when it comes to recruitment, and they ELIMINATE headhunting entirely from their options: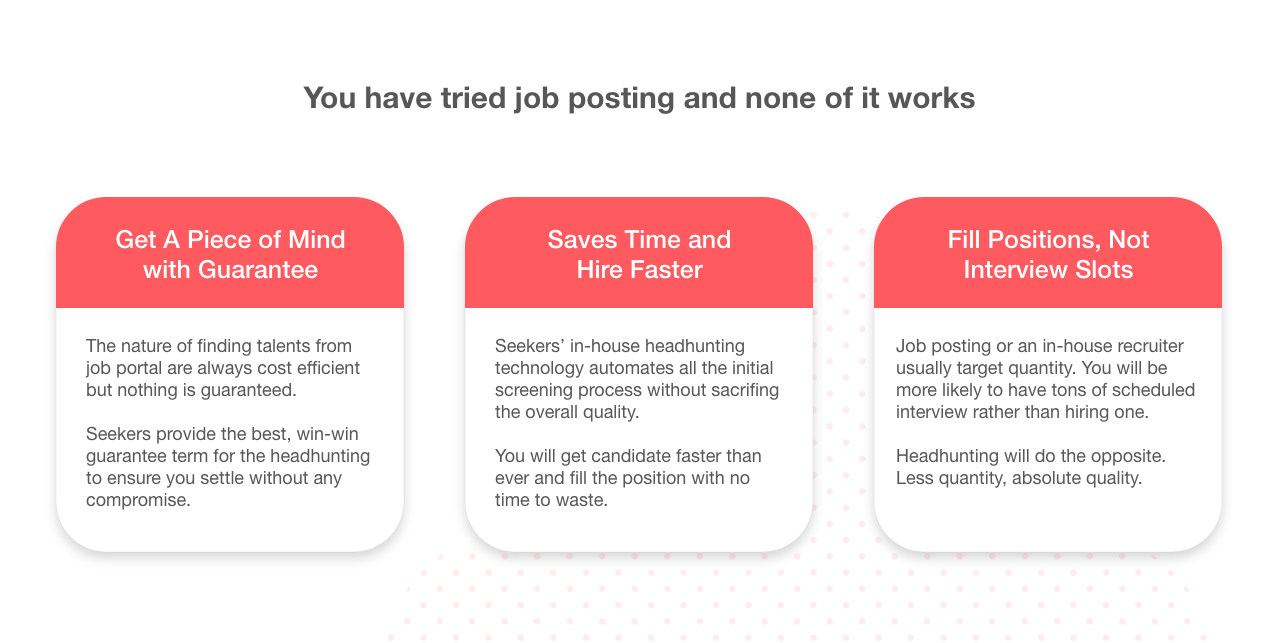 Save Your Time and Budget
Most companies think that posting a job on portals will save them a fortune. It is an obvious trap when you spend RM 2000 per month for your job advert to be advertised on multiple platforms and did not see any suitable candidate for at least 3-5 months based on what you get from the portal.
Imagine spending RM 2000 X 5 = RM 10,000 on job portal and all you get is irrelevant CVs that turns to be a reusable printing paper or a dust collector. The biggest culprit here is TIME!
If you put that RM 10,000 on Seekers Headhunting, you can close the position in less than three weeks maximum. We can guarantee that you will be spending much lower than RM 10,000 because you save more time for your hiring. Time is money, and Seekers will help you save time as much as possible.


Guarantee Period
Have you ever come across any job portal that can provide you guarantee period upon hiring? The guarantee period is very important because you will be testing your new hire for at least a month to evaluate their skillsets and commitment to work.
Most headhunting agency will provide you with a guarantee period upon hiring. But the dealbreaker will be the length of the coverage and what they will provide if you need a replacement? Is there going to be any additional charges or they simply ditch you without providing placement?
That's where Seekers Headhunting comes with way better solutions to provide you with the best guarantee period in the market. Seekers will accommodate you up to 3 months of guarantee period once you hire a candidate. Most head hunting agencies will settle for one month, well we provide you with an extra two months, just to ensure we deliver the best candidate for you!
What if the candidate suddenly disappears or resign within the guarantee period? Worry not as Seekers will provide you with replacement with no hidden charge. We take the responsible thoroughly to you.



Network is The Strongest Key in Hiring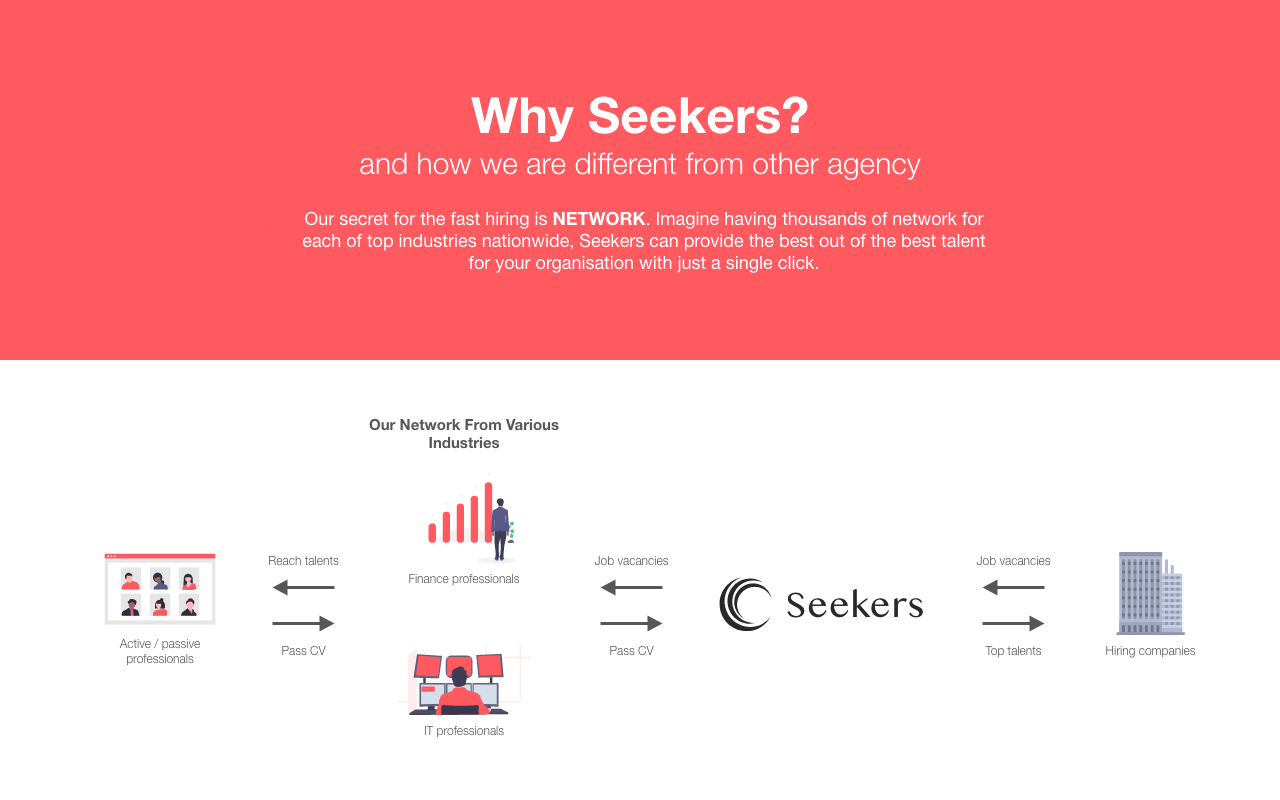 What makes Seekers Headhunting different than another recruitment agencies is the network. That's all. Sounds simple but that what make our existing clients happy because network enables us to get candidate faster without forfeiting quality for you!



Huge Professional Network Nationwide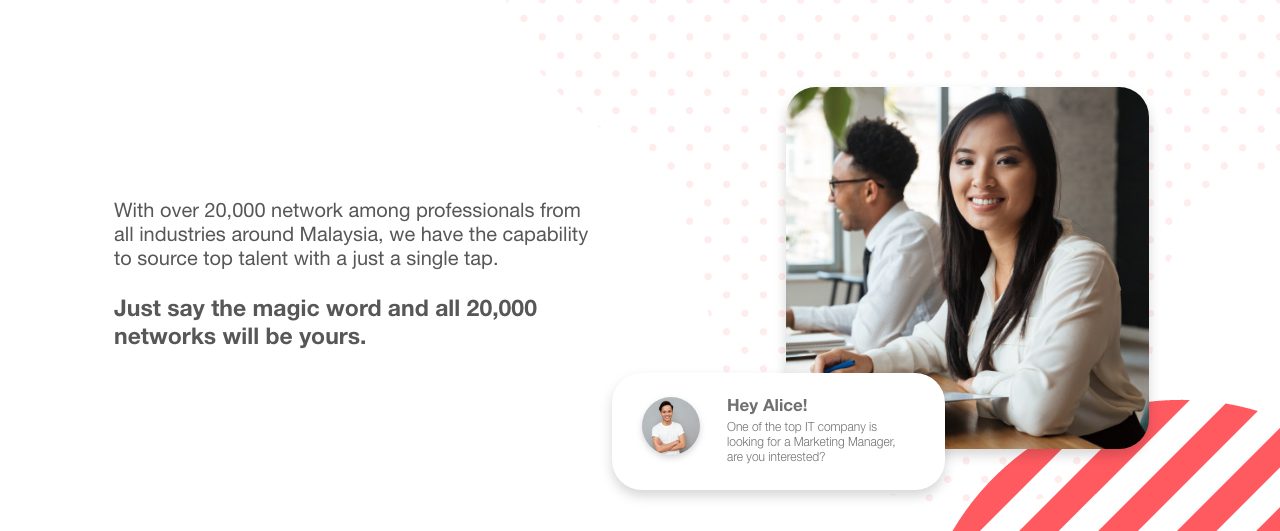 We have made our way to the top with 20,000 networks consist of professionals from all industries nationwide. Hence, we can share with you the 20,000 networks with a single tap on our system. All you have to do is to provide us with your job advertisement, and we will do the rest for you!



Hire with Cutting-edge Technology
You can tell the difference between Seekers and other conventional recruitment agencies when it comes to technological advantages. Most recruitment agencies are keeping their traditional method for their talent scouting and CV screening, which for your side, will cause delay and cost drain.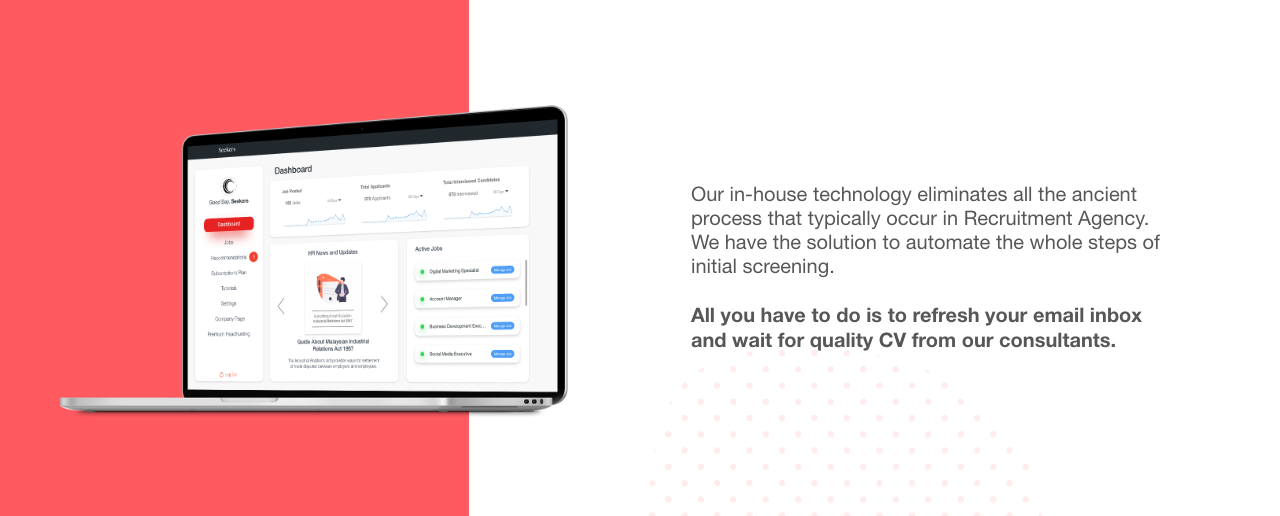 Seekers Headhunting, for years, has developed in-house tools that play with data that results in complete automation. Here are a few technologies that we have developed to help you reduce time and cost in hiring:

Automated CV Screening System
Seekers' CV database can be overwhelming since our vast network consistently refer CVs every single day. Since it is impossible to scan each CV for the initial screening stage, we have developed an automated initial screening system that can screen each CV's quality in just a millisecond.
With that, we can proceed to qualify candidates for an interview with a hiring company, 200% faster than other recruitment agencies. You must be wondered if the system reliable? Worry not as we have utilized this system all these while for each of our clients' hiring, and all of them are happy with the talent they received.


Built-in Application Tracking System (ATS)
Staying organized is the best ingredient for productivity in hiring. Seekers' Application Tracking System (ATS) allows our consultants to manage candidate from A to Z for you comprehensively. Thus, all information and schedules are stored in a single platform to avoid delays in data retrieval that can cause inconvenience for your side.
We can provide the system to you as well if you like to monitor and manage the candidate by yourself.



Extensive Consultant Support
Hiring can never be done without human touch. This is what job portal is lacking, candidate will feels demotivated when they only interact with online form when applying for job position.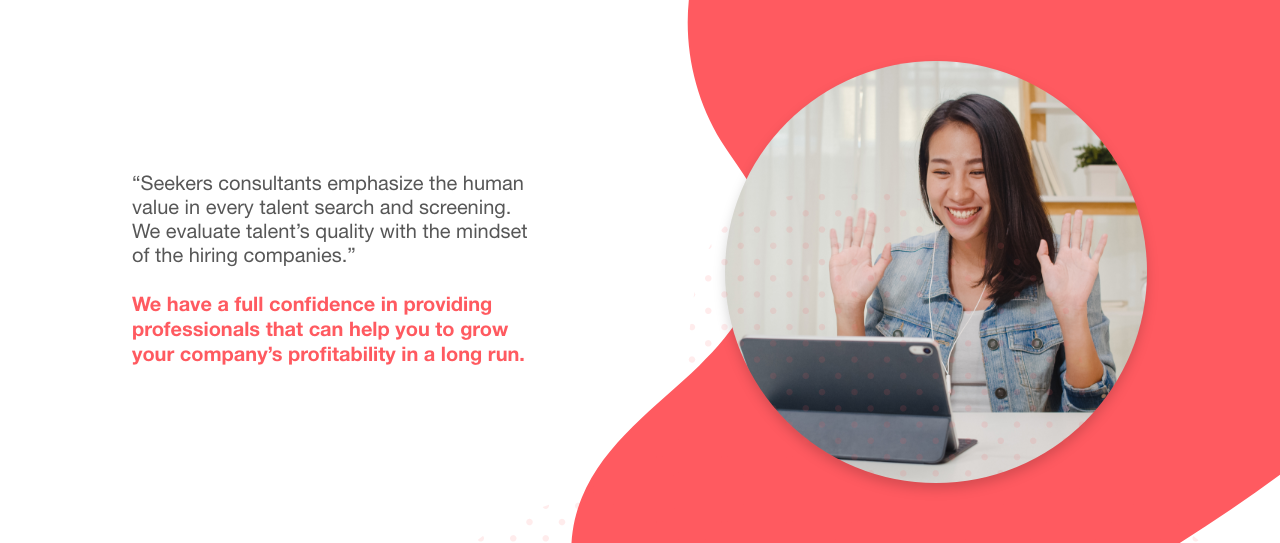 They will never experience a proper introduction and learn about the background of the hiring company. It is natural for human being to be suspicious to something they know nothing about.
Seekers Headhunting do prioritise technology as the main key for speed and agility, but we will never remove the value of human touch in recruitment. The most part of of hiring process is to introduce your company with the best approach possible. We have a very talented consultant that will help you create the best bond between candidate and your company to ensure great sustainability.
Our consultant will always there to support your hiring at all time!



Our Pricing is Better Than Others
We have save your time for all the research you need in terms of pricing comparison. Most recruitment agencies will charge the highest rate possible for the sake of their possibility. Have a look below and see how Seekers provide way better rate and pricing than others.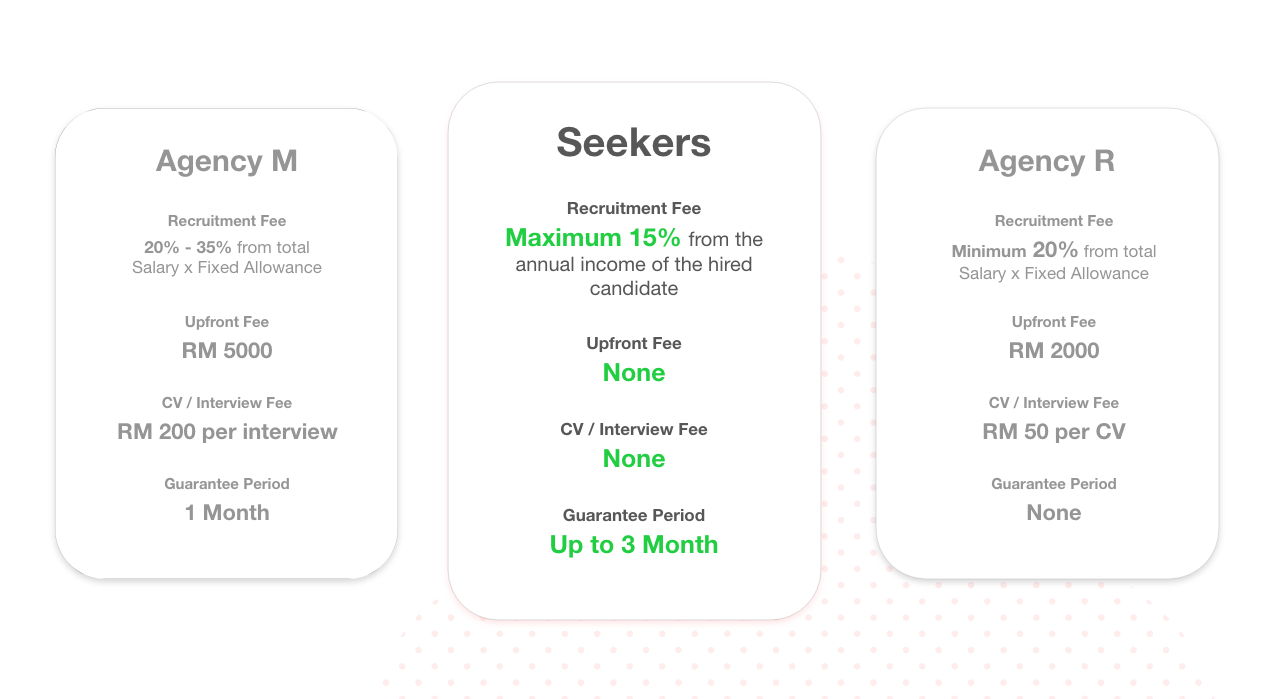 Our method in pricing is always a client-first basis. We aim for relationship and loyalty from client instead of trying to land a big deal which somehow a big loss to you. Seekers provide the best win-win solution to both sides and we hope to be your number 1 go-to platform whenever you need a new talent for your company.