SRS Tutorial | How to Use DB Scout?
Thank you for choosing Seekers as a platform to cater to your current recruitment campaign, and we hope the SRS dashboard will serve you well.
We imagine you are a busy business person, so let us conclude the benefits to use DB Scout in the first place. With this function, you can:
Know the proper salary range based on the actual data
Directly hunt candidates
You are yet to post your first job ad on Seekers; what we can guarantee is how effective it will be in terms of providing great talent for you to hire.
What makes Seekers SRS different from other job platforms is the integration of Database Scout System that you can utilize to specifically hunt candidate's that match up to 90% of the job requirement.
Here is the tutorial on how you can utilize the Job Ad + Database Scout to its full potential, all to ensure that you find the exact candidate that matches all the criteria needed.
---
1. Post Job Ads on Seekers SRS
To use the Database Scout system, you have to publish at least ONE job ad on Seekers SRS.
To create your first job, look at the left sidebar, select job > click "the Post a New Job" button at the top left.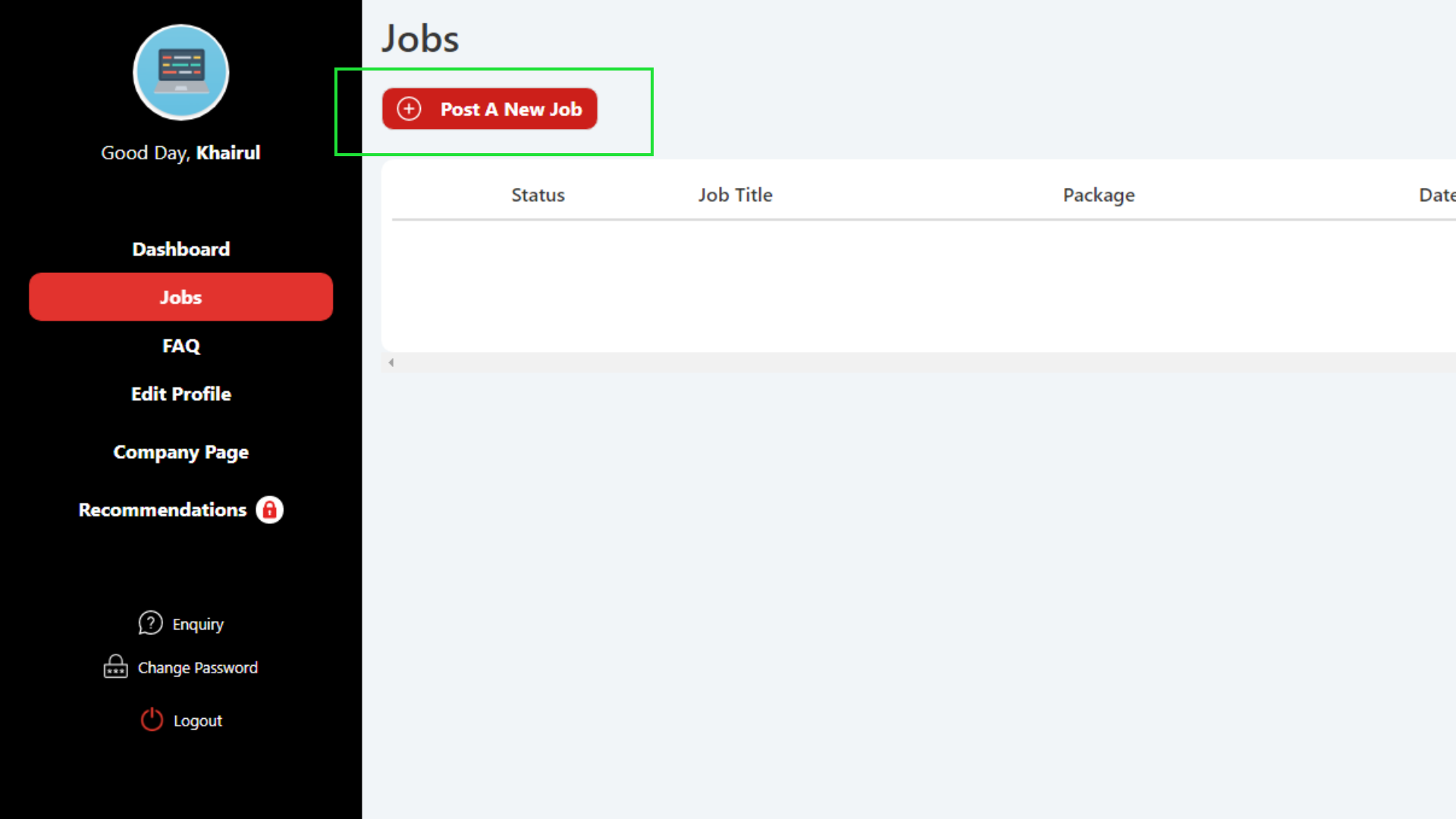 *You can also learn how company profile can elevate trust and branding. Company Information is very important to attract candidates, so please update well. It would be shown like this if you input the information properly: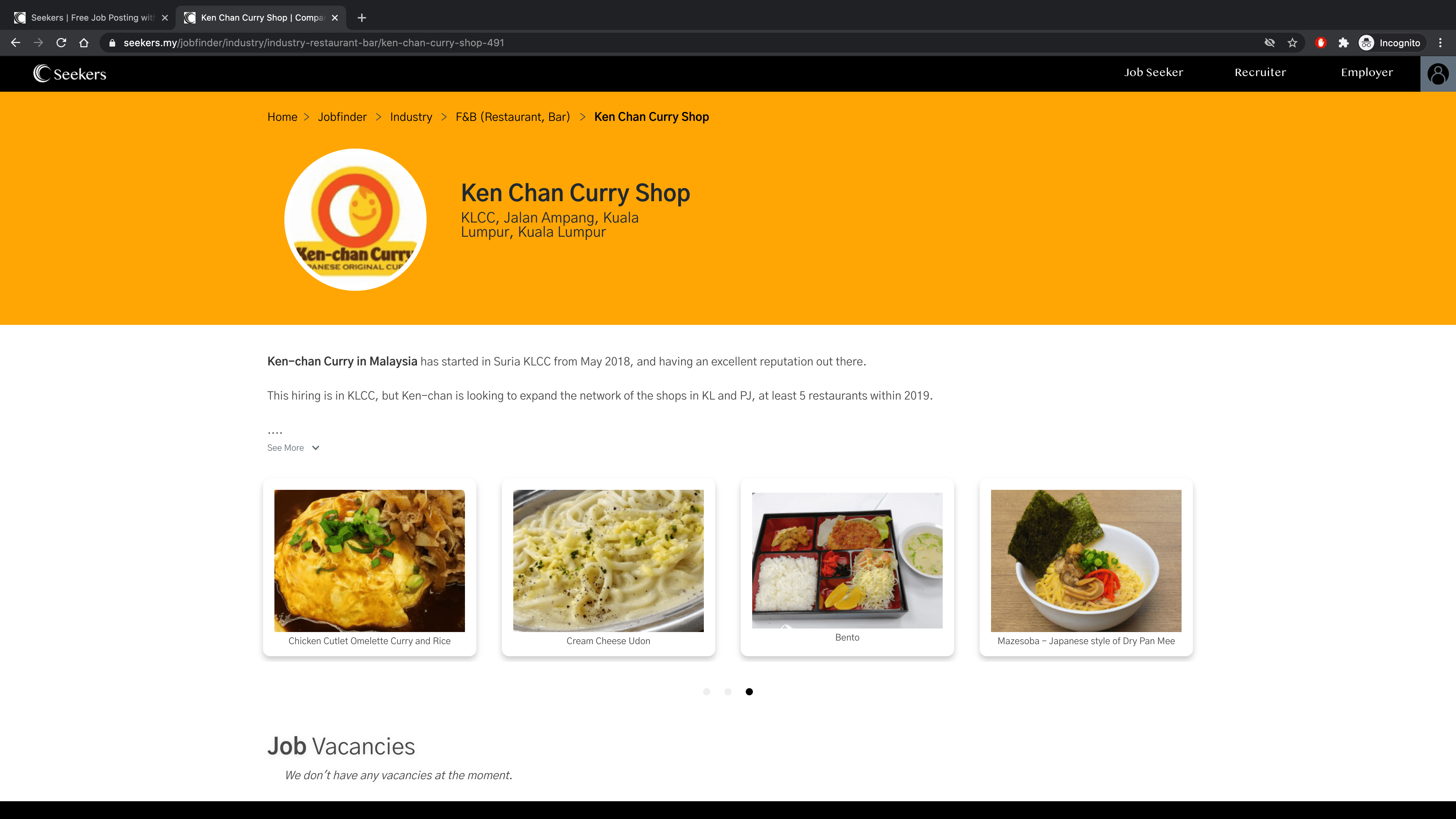 Once your job ad is published, you can go to seekers.my/jobfinder/jobs to see your job ad from candidates' perspective.
Make sure to fill all the essential details regarding your company's background, compensations and benefits, and to make sure all the job details are well-presented in the job ad.
---
2. Using The Database Scout System
Now you have published your first job ad on Seekers! It is time for you to utilize the Database Scout system to search for specific candidates for the position.
---
Step 1 : Accessing the Database Scout system
To access the Database Scout system, from the left sidebar > select Database.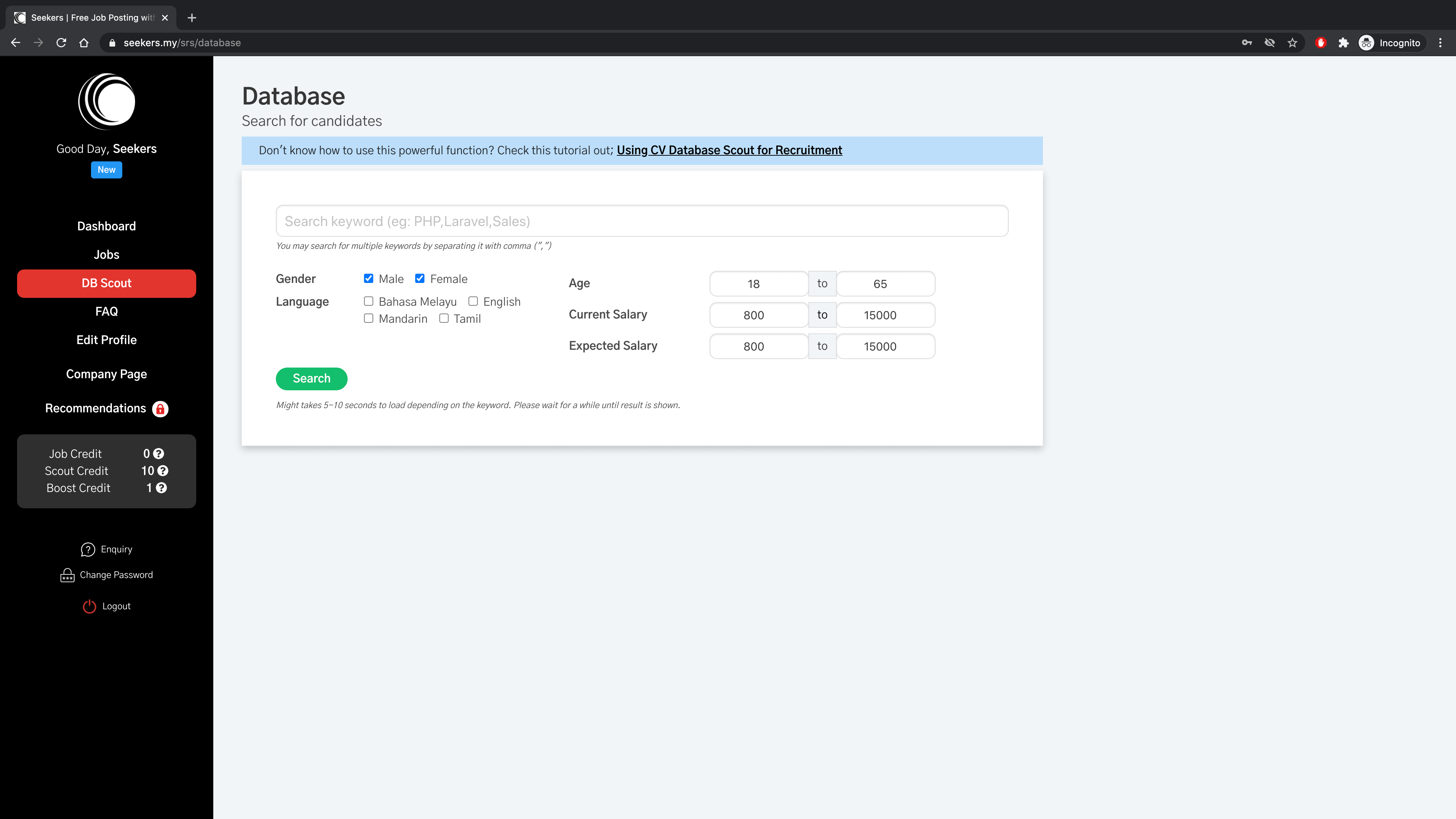 You can begin your search using the search bar provided. For better search accuracy, we suggest a search based on keywords, and You can separate each keyword with a comma (,) for multiple searches.
For example, let's say you are looking for a PHP Developer with additional skills in HTML and CSS, here how the search should look like:

You will also be able to filter the search based on:
Gender
Language
Age
Current Salary
Expected Salary
---
Step 2 : Understanding the search result
The search result will be presented in a card-style UI, which provides ease for you to make a side-by-side comparison. Search results comprise limited but comprehensive candidate's information for your viewing.
Below are the sample search results: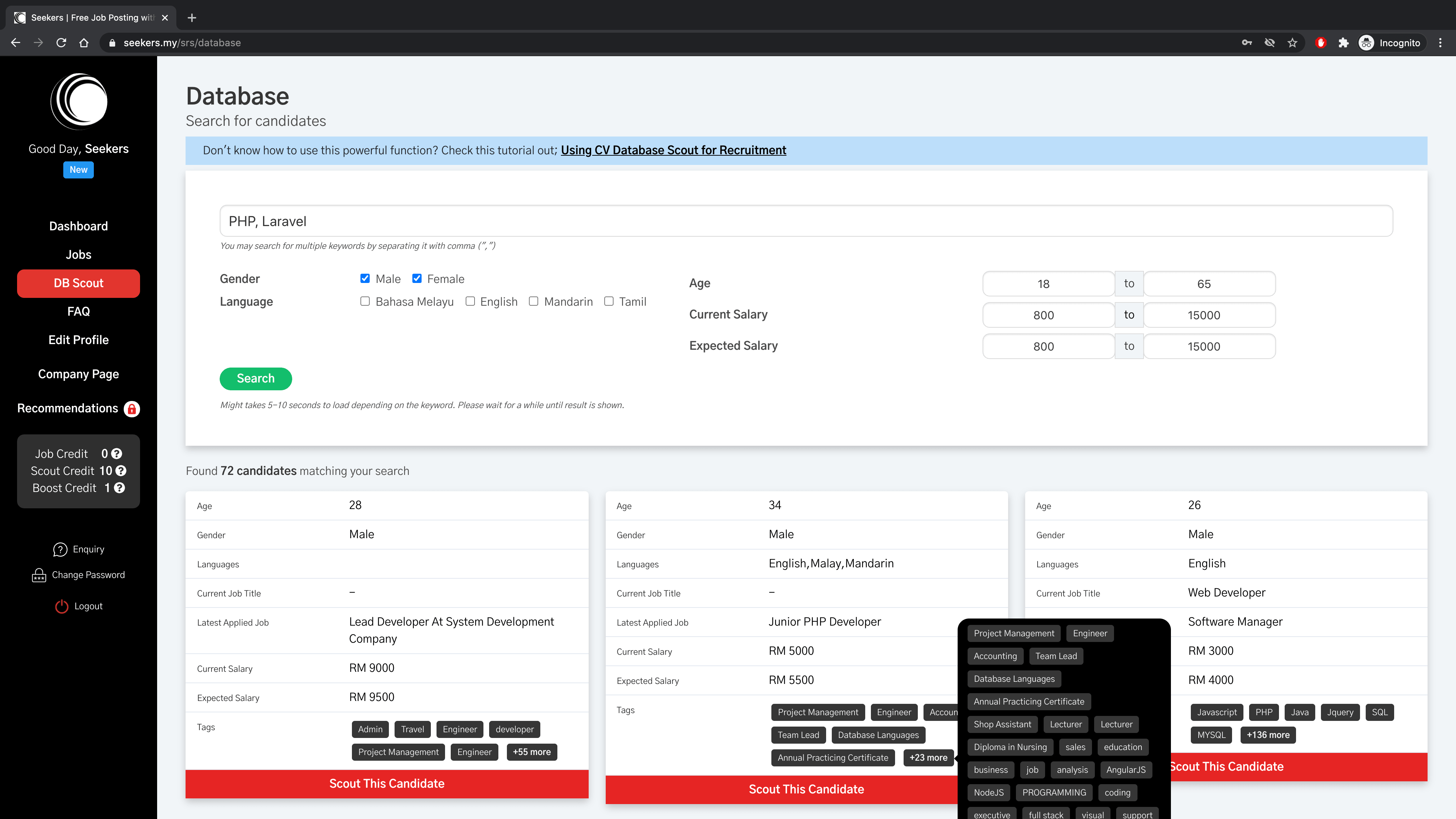 One of the vital information you can prioritize when making a comparison is to put a focus on the "Tags" section. You can consider Tags as a summary of the candidate's skillsets which tremendously will contribute towards your decision making.
Once you found a candidate of your choice, you can click the "Scout This Candidate" button to proceed to the next step.
---
Step 3 : Sending a direct message to candidate
In the Scout Candidate windows, you will have the ability to send an outreach message to the candidate directly. There are three things you have to complete in this process:
Job position to offer: Select any job ad you have published on Seekers that is suitable with the candidate.
Write a Reason of Your Interest: Write your outreach message in the column; the best message should trigger the candidate's interest. (Feature Alert: Seekers provides excellent templates for you to begin with!)
Deadline Date: Set a deadline for a candidate to respond to your message.
And candidate will receive your message in a format as below:
Email

Confirmation Page (link is on the email)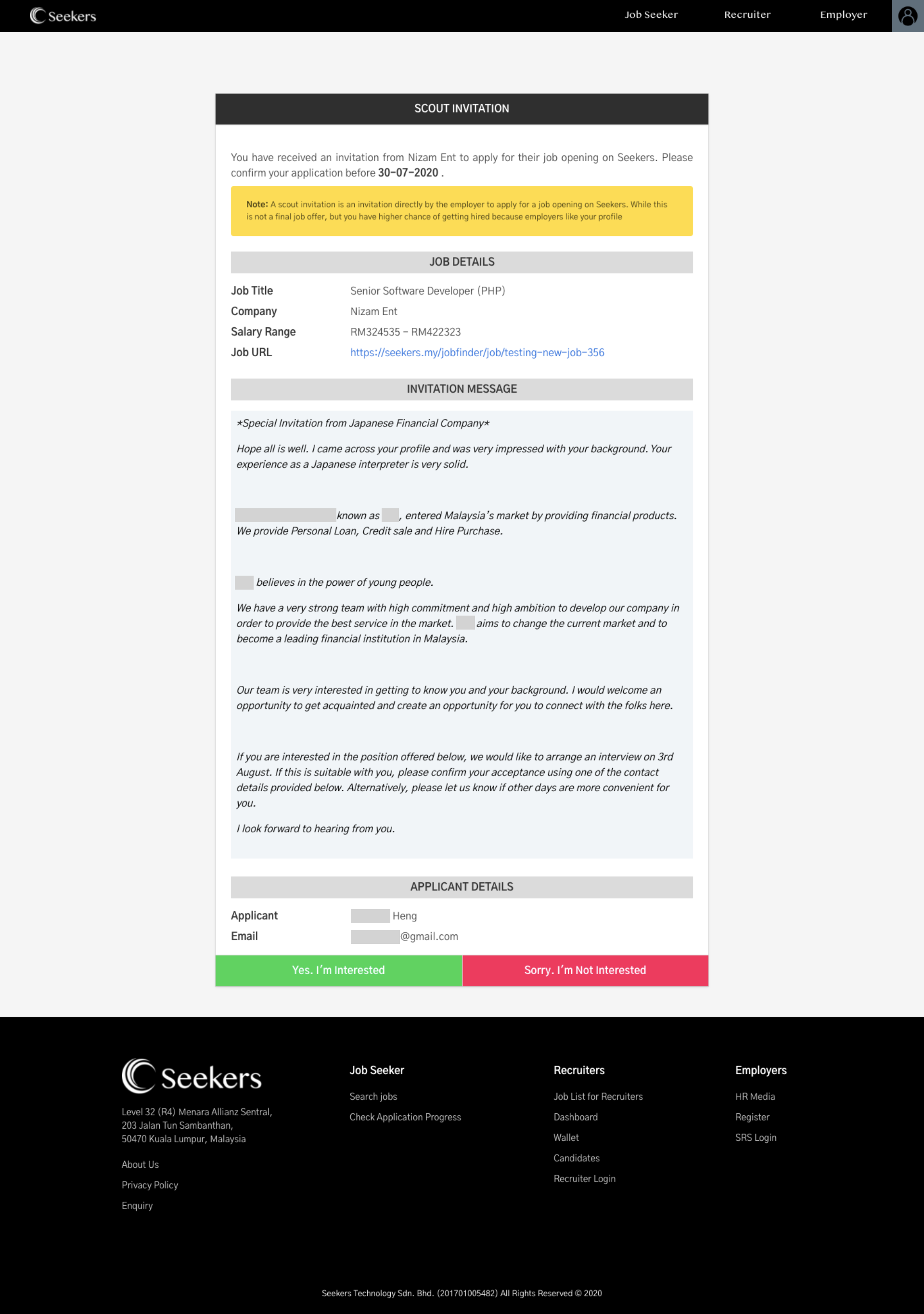 ---
Step 4 : Comprehensive Tracking Interface
Once you all set, you can track all the progress you have made for your database scouting with easy and straightforward UI. You can track:
The reply deadline
Real-time status
Data viewing based on positions
Actions button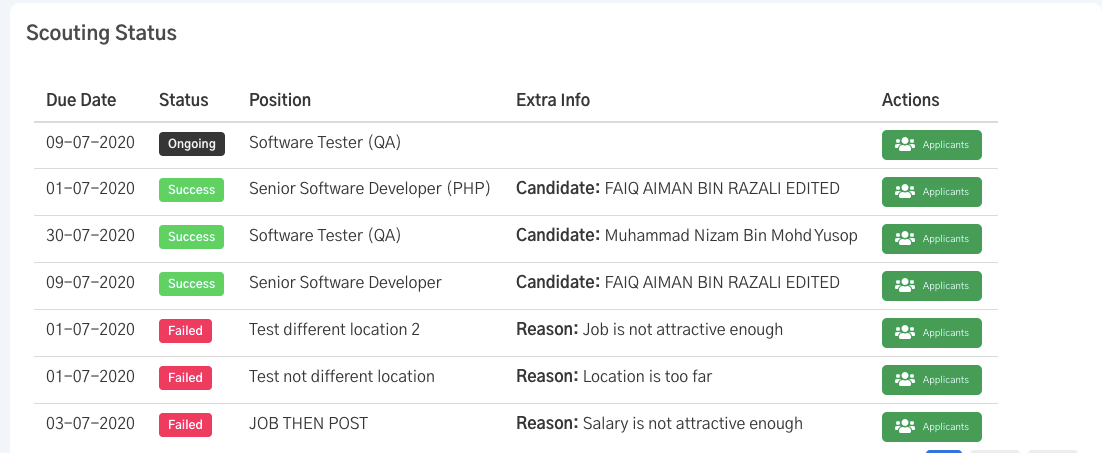 ---
Summary
DB Scout should be a great function to enhance your recruitment activity, so we all hope you like it!
We Seekers always develop based on your feedback, suggestions, or even from your complains, so please feel free to drop a message through enquiry.
If you would like to utilize SRS more, please explore other tutorials as well.
Thank you for reading!